Arsenal Looks To Move To Europa League Quarterfinals
Published on March 10th, 2018 11:31 am EST
Written By:
Dave Manuel
Click Here To Bet on Arsenal v AC Milan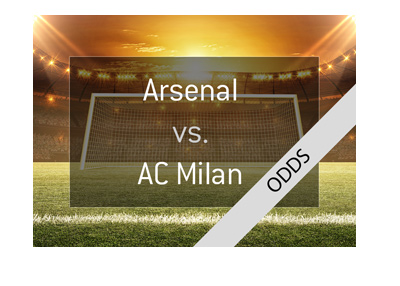 Arsenal will look to take care of business on Thursday, March 15th, 2018 when they play host to AC Milan in the second leg of their Round of 16 Europa League match.
Arsenal has a stranglehold on this match, thanks to a 2-0 victory at AC Milan earlier this month. Given that they were shut out at home, there seems to be little chance of AC Milan mounting enough offence to put two past Arsenal on the road.
Arsenal, as of this moment, has the second best odds of winning Europa League, as they are currently listed at 5.00 to win, while Atletico Madrid is listed at 2.88.
Here are the odds for Thursday's match:
Source: Bet365
Time Stamp:
March 10th, 2018 11:20 am EST
Odds Subject to Change
Arsenal, 2.00
Draw, 3.6
AC Milan, 3.5
Remember - Arsenal is in a dominant position heading back to Emirates Stadium, so they are likely going to play a stifling defensive game that is limited on offence in order to preserve the victory. AC Milan, on the other hand, will be opening up their game in order to try and equalize.
Here are the qualification odds for the quarter-finals:
Arsenal, 1.07
AC Milan, 9.00
-
The oddsmakers at Bet365 are forecasting a very close contest, as you can see by the three likeliest outcomes of Thursday's match:
Draw 1-1, 6.5
Arsenal 1-0, 8.5
Arsenal 2-1, 8.5
-
Arsenal, which currently sits in 6th place in the English Premier League table, is desperate to win the Europa League title, as this is likely the only way that they will make it into Champions League next season.