Walt Dropo Was Drafted By Both the BAA (NBA) and NFL
Published on June 21st, 2023 1:36 pm EST
Written By:
Dave Manuel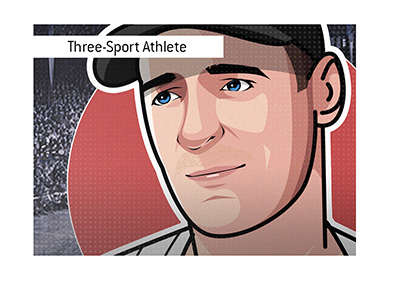 Walt Dropo was a true force of nature.
While attending the University of Connecticut in the mid 1940s, Dropo played for the basketball, baseball and football teams.
Dropo didn't just play for the three teams - he excelled.
In fact, Dropo was SO good that he was drafted in the first round of the 1947 BAA Draft, AND the 9th round of the 1946 NFL Draft.
Dropo, who was UConn's all-time leading scorer, was drafted fourth overall in the 1947 BAA Draft (the BAA would later become the NBA) by the Providence Steamrollers.
Dropo had offers from both the Steamrollers and Chicago Bears, but what did he decide to do?
Shun both leagues and sign with the Boston Red Sox as an amateur free agent.
A gutsy move for the talented Dropo - would it pay off?
-
The early returns for Dropo were pretty underwhelming.
After making his debut in April of 1949 for the Red Sox, Dropo batted just .146 through his first 11 games.
Had he made the right move? Should he have gone to the BAA or NFL instead?
In his first full season in the league (1950), Dropo proved to himself and everybody else that he had made the right move, as he went on an absolute tear.
In 1950, Dropo hit 34 home runs and 144 RBIs, which were the two highest totals of his career.
Dropo ended up winning Rookie of the Year in 1950.
-
In 1951, Dropo broke his wrist, and he seemed to never quite recover from the injury.
In the end, Dropo would enjoy a career in Major League Baseball that lasted 13 years. Dropo would hit 152 home runs and 704 RBIs over the course of his career, and he was an outstanding defensive first baseman.
-
Walt Dropo's story is incredible for a number of reasons - namely because he was a three-sport athlete in college who turned down both the NBA and NFL to join the Boston Red Sox as an undrafted free agent.
Truly incredible.