Fernando Tatis Hit Two Grand Slams in the Same Inning
Published on December 26th, 2022 1:51 pm EST
Written By:
Dave Manuel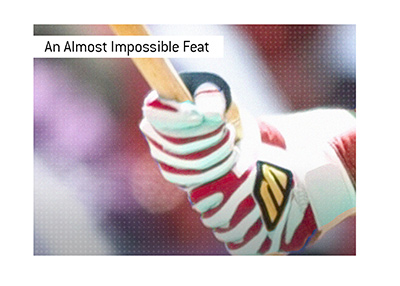 There are some pretty obscure feats that can be accomplished in the game of baseball.
Strange double-plays.
Unassisted triple plays.
Cycles.
On April 23rd, 1999, however, the rarest of feats was accomplished by Fernando Tatis:
He hit two grand slams in the SAME inning.
To make it even crazier, Tatis hit the two grand slams off the same pitcher as well.
-
Fernando Tatis played for over a decade in the Major Leagues.
Over the course of his career, Tatis (who is the father of Fernando Tatis, Jr.) hit 113 home runs and 448 RBIs.
A solid MLB career, but certainly nothing crazy. You wouldn't expect that Tatis would be the player to hit two grand slams in the same inning.
On April 23rd, 1999, Tatis did exactly that, as he hit two grand slams in the same inning in a road game against the Los Angeles Dodgers.
Chan Ho Park was the pitcher for both of Tatis' grand slams, and he must have been wondering just what had hit him.
In addition to becoming the only player to ever hit two grand slams in the same inning, Tatis also set the record for most RBIs in a single inning (8).
-
This is the only time that this feat has EVER been accomplished in the history of Major League Baseball.
This is quite something, considering the fact that MLB was founded roughly 150 years ago.
Throughout the entire history of the league, only one player has hit two grand slams in one inning.
In fact, this feat may never be accomplished again.
Think about how hard it would be to repeat this feat. Not only would you have to hit two home runs in one inning, but the bases would have to be loaded each time that you stepped into the batter's box.
An almost impossible feat that may never be duplicated.