Houston Astros, New York Yankees Favoured To Win World Series
Published on March 28th, 2018 9:52 pm EST
Written By:
Dave Manuel
Click Here To Bet on Baseball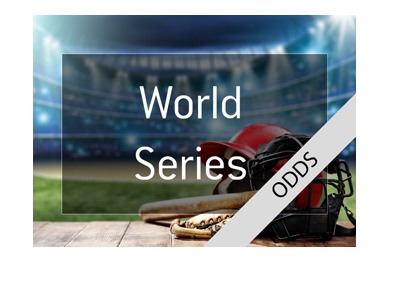 Can the Houston Astros, who spent years rebuilding their franchise by working on their farm system, win the World Series in back-to-back years? Will the New York Yankees, who are sporting the 2018 version of the Bash Brothers in Stanton/Judge, clobber their way to another title? Or will a team like the Dodgers, Indians or Cubs win?
This year is much like last year in that there are probably 6-7 teams that have a very good shot of winning the World Series, followed by the rest of the league that essentially stands no chance.
The Yankees likely made the biggest move of the offseason when they traded for the services of Giancarlo Stanton, who will now be added to one of the most potent offensive attacks in baseball. Judge, who wowed in his rookie campaign last season, will be given some protection in the line-up, which should help to pad his numbers. If the Yankees' pitching staff can stay healthy, the team should win the AL East and possibly return to the World Series.
In the National League, the Astros are still the team to beat, despite the fact that the LA Dodgers will have a much larger payroll. The Astros still possess one of the most talented teams in all of baseball, led by the freshly signed Jose Altuve. The Houston Astros possess a very strong pitching staff as well, which will make them a very tough out in the National League.
The LA Dodgers, Cleveland Indians, Chicago Cubs and Washington Nationals all have very strong teams, though they are likely a cut below the likes of the Astros and the Yankees.
Let's take a look at the complete odds to win the World Series this season, courtesy of Bet365:
Source: Bet365
Time Stamp:
March 28th, 2018 9:48 pm EST
Odds Subject to Change
Houston Astros, 6.5
New York Yankees, 6.5
Los Angeles Dodgers, 7.0
Cleveland Indians, 8.5
Chicago Cubs, 10.0
Washington Nationals, 11.0
Boston Red Sox, 15.0
St. Louis Cardinals, 21.0
Los Angeles Angels, 21.0
Arizona Diamondbacks, 21.0
Milwaukee Brewers, 21.0
Toronto Blue Jays, 26.00
Colorado Rockies, 23.0
New York Mets, 34.0
San Francisco Giants, 26.0
Seattle Mariners, 41.0
Minnesota Twins, 34.0
Tampa Bay Rays, 67.0
Texas Rangers, 51.0
Baltimore Orioles, 81.0
Pittsburgh Pirates, 81.0
Kansas City Royals, 76.0
Philadelphia Phillies, 81.0
Atlanta Braves, 81.0
Oakland Athletics, 151.0
Chicago White Sox, 126.0
San Diego Padres, 201.0
Detroit Tigers, 201.0
Cincinnati Reds, 251.0
Miami Marlins, 251.0