Manfred: Sports Gambling Has "Changed Dramatically"
Published on April 4th, 2017 12:35 am EST
Written By:
Dave Manuel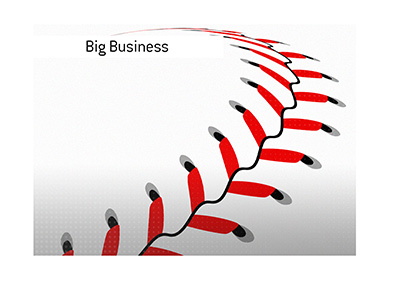 In a conversation with ESPN's "Mike and Mike" earlier today, Major League Baseball Commissioner Rob Manfred said that it was time for the league to have an honest discussion about sports betting.
For as long as anyone can remember, the four major sports leagues in North America (NFL, NBA, MLB and NHL) have been universally opposed to legalized sports betting in the United States. Their main argument was that legal sports betting would possibly result in their games being tarnished due to the possibility of rigged outcomes.
Things have been changing as of late, however, thanks to the exploding popularity of sports betting in regions like Europe, as well as the rise of the daily fantasy sports industry. Europe has shown that legal sports betting can be offered while still maintaining the integrity of the games that people wager on.
NBA Commissioner Adam Silver broke the ice on this discussion over a year ago when he suggested that legal sports betting in the United States might not be a bad thing.
In terms of the business side of things, legal sports betting is a no-brainer for owners, as it has been demonstrably proven beyond a shadow of a doubt that sports betting and daily fantasy sports result in people watching more sports content. It makes perfect sense - if you have a wager on a game, you will likely watch it until its conclusion to see if you won your bet. Sports betting and daily fantasy sports increase the "stickiness" of sports events, which translates into higher ratings, which translates into more money for owners.
-
As Manfred said in his interview, sports betting is no longer about placing a bet with an illegal bookmaker.
In this day and age, sports betting firms are largely legitimate multi-billion dollar operations. In fact, many of the world's largest online gaming firms are publicly traded.
-
The "Big Four" sports leagues in North America are behind the times when it comes to gambling (in Europe, for instance, gambling firms will even advertise on jerseys) but there is no doubt that the tide is turning. As soon as the NFL climbs onboard, you can be sure that sports betting legislation will change in the United States and it will become legal to place a bet on a sports event. Money talks and when the leagues are unified in their desire for legal sports betting, the laws will be changed.