McDougall Continues To Hold Record for Most RBIs in Single College Baseball Game
Published on July 20th, 2023 2:49 pm EST
Written By:
Dave Manuel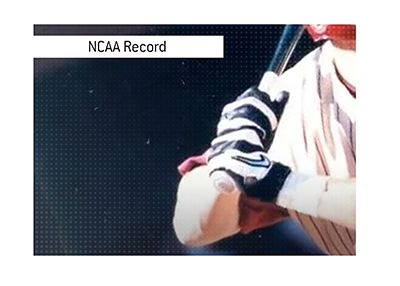 When Marshall McDougall woke up on May 9th, 1999, he probably had no idea that he was about to enter the college baseball record books.
Florida State was squaring off against Maryland, and clearly McDougall was locked in when he woke up that morning.
-
After starting the game with a single, McDougall would go crazy, homering in SIX STRAIGHT at-bats.
That's right - McDougall would launch six long balls in a row, leading his team to a monster 26-2 win.
McDougall would have a total of 25 bases in the game as well.
Here are the highlights from the game:
FSU baseball: On this day in 1999, Florida State's Marshall McDougall recorded an NCAA record six home runs and 16 RBIs in a single game, going 7-for-7 at the plate against Maryland.

The Noles won 26-2 on the road. pic.twitter.com/1EX3gMBZSM

— MAX (@maxescarpio) May 9, 2022
Prior to May 9th, 1999, the record for most RBIs in a college baseball game had been held by Jim LaFountain, who cashed in 14 RBIs in one game in 1976.
-
McDougall was a first team consensus all-American in 1999, and was named the Most Outstanding Player at the 1999 College World Series.
McDougall was drafted in the 9th round of the 2000 MLB Draft by the Oakland Athletics.
McDougall toiled in the minors for a number of different teams. In 2005, McDougall got his big break, as he was called up to the Texas Rangers, where he would play a total of 18 games.
McDougall would hit .167 for the Rangers. The next season, he found himself back in the minor leagues, never to return to Major League Baseball.
McDougall would finish his career in Mexico, before finally deciding to hang it up.