Los Angeles Dodgers Forfeited Home Game on August 10th, 1995
Published on March 28th, 2023 12:39 pm EST
Written By:
Dave Manuel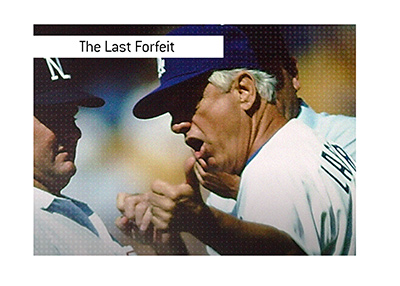 Major League Baseball's last forfeited game didn't take place long ago in the 1920s or 1930s.
Instead, it took place on August 10th, 1995, in a contest between the St. Louis Cardinals and Los Angeles Dodgers at Dodgers Stadium.
Here is the story of that forfeited game.
-
On August 10th, 1995, the Los Angeles Dodgers had a special promotion:
Souvenir baseball night.
As fans entered the stadium, they were given souvenir baseballs. Nobody thought too much of it at the time.
The game was a close one and featured a number of controversial calls.
The fans at Dodgers Stadium were starting to get restless.
During the seventh inning, a number of fans threw their souvenir baseballs onto the field, causing a delay.
The game would continue.
With the Cardinals leading 2-1 in the bottom of the ninth inning, all hell broke loose.
Raul Mondesi was called out on strikes and subsequently thrown out of the game for arguing.
Dodgers manager Tommy Lasorda stormed out of the clubhouse, argued with the home plate umpire and was also thrown out of the game.
Fans started throwing their souvenir baseballs onto the field, causing another delay.
After players returned to the field, fans started throwing baseballs once again.
After conferring with each other, the umpires decided to call the game, and announced that the Dodgers had officially forfeited.
-
As a result of this game, Major League Baseball changed their rules regarding teams giving out throwable objects.
Instead of receiving the objects when walking into a stadium, teams could only give out these items to fans after the game was over and fans were heading out of the stadium.