A Look at the Longest Winning Streak in Major League Baseball History
Published on September 29th, 2021 12:26 pm EST
Written By:
Dave Manuel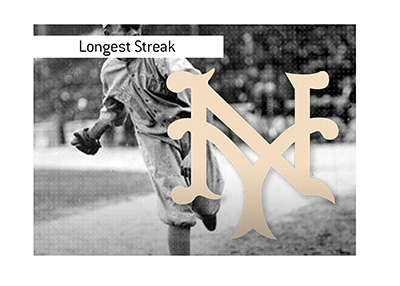 There have been some very well-publicized winning streaks in Major League Baseball, though the league's longest winning streak came well before the days of social media and 24 hour news coverage.
In 2002, the Oakland Athletics went on a 20-game winning streak that would eventually be immortalized in the movie, "Moneyball".
In 2017, the Cleveland Indians came within a few games of setting the all-time consecutive win record, though they would end up falling a bit short.
The record holders continue to be the 1916 New York Giants, who put together an incredible 26 game winning streak.
When teams go on these winning streaks, they usually end up with incredible regular season records.
The 2017 Cleveland Indians, for instance, finished the yard 42 games over .500.
The New York Giants, however, finished the season with a record of 86-66 - good, of course, though you would likely have expected their final record to be quite a bit better.
What makes this statistic even crazier is that the Giants also had a 17 game winning streak earlier in the season, and they still only finished in 4th place in the National League.
-
The New York Giants were led by their starting pitch, as they had a number of very good arms, including Jeff Tesreau, Pol Perritt and Rube Benton.
The team didn't have any 20 game winners, though Tesreau, Perritt and Benton had 18, 18 and 16 wins respectively.
Dave Robertson also ended up leading the league in home runs, as he would hit 12 on the season while notching 61 RBIs.
-
In this age of parity in Major League Baseball, it seems hard to imagine that the 1916 winning streak of the New York Giants will ever topped.