San Francisco Giants, Washington Nationals Played for Over Six Hours in 2014
Published on October 4th, 2022 12:46 pm EST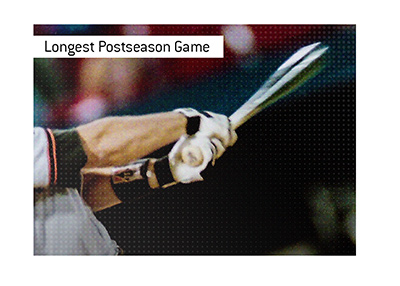 What was the longest postseason game in the history of Major League Baseball?
In 2014, the Washington Nationals played the San Francisco Giants in one of the two National League Divisional Series contests.
The Washington Nationals entered the postseason as the top seed in the National League, while the San Francisco Giants were the #5 seed.
-
In the first game of the series, the San Francisco Giants would edge out the Nationals 3-2 in a game that took nearly 4 hours to complete.
This was a long contest, though little did players and fans know that a much longer game would be just around the corner.
-
On October 4th, 2014, the San Francisco Giants and Washington Nationals would square off for Game 2 of their series at Nationals Park.
The game would feature a pitching duel between Tim Hudson and Jordan Zimmermann.
Zimmerman was especially good, as he pitched 8.2 innings of 3 hit ball.
-
The Nationals took a 1-0 lead in the third inning, only to have the Giants tie up the contest in the top of the ninth.
There would be an ENTIRE extra game played between the two teams, as the Giants would eventually win 2-1 in 18 innings.
The deciding play came in the 18th inning, when Brandon Belt went deep off of Tanner Roark.
The Giants held on in the bottom of the 18th, and the Giants won the game.
-
In total, the game lasted
6 hours and 23 minutes
, making it the longest postseason game in Major League Baseball history.
-
The San Francisco Giants would go on to win the series 3-1.
Their momentum would continue, as they would eventually win the World Series that year.