The Cadore/Oeschger Record Will NEVER Be Broken
Published on June 19th, 2023 4:43 pm EST
Written By:
Dave Manuel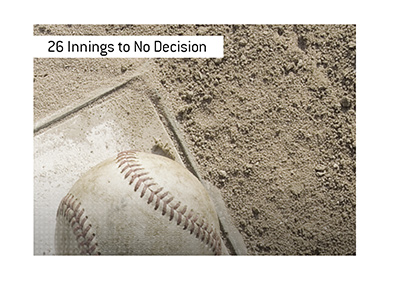 On May 1st, 1920, Leon Cadore and Joe Oeschger combined to set a record that will NEVER be broken.
Ever.
On that day, the Boston Braves and Brooklyn Robins played to a 1-1 tie.
The game was declared a "no-contest" after 26 innings of play.
Leon Cadore and Joe Oeschger pitched the entire game for their respective teams.
26 full innings of work.
-
In 1920, there were really no "relief" pitchers - pitchers who started the game quite often finished.
This was no more apparent than on May 1st, 1920, when Cadore and Oeschger pitched nearly three complete games - each.
With each passing inning, the two starting pitchers kept slinging, and they kept getting the other team's out.
Over the course of the game, the Boston Braves managed 15 hits, while the Robins managed just 9.
Cadore and Oeschger would both give up just 1 run over the course of the 26 inning game.
Cadore managed to strike out 7 batters while walking 5, while Oeschger would strike out 7 batters while walking 4.
Neither pitcher gave up a home run in the game.
-
In the 6th inning, the Braves tied up the game at 1.
It would remain tied 1-1 until the 26th inning was completed, when the towel was finally thrown in on the game.
The game was finally called after the 26th inning, and both teams finished the season with a tie on their records.
-
Neither Cadore nor Oeschger were phased by the 26 inning outings, as they would both go on to make multiple more starts that month.