Len Koenecke Was Killed After Trying to Hijack a Plane
Published on March 5th, 2023 7:33 pm EST
Written By:
Dave Manuel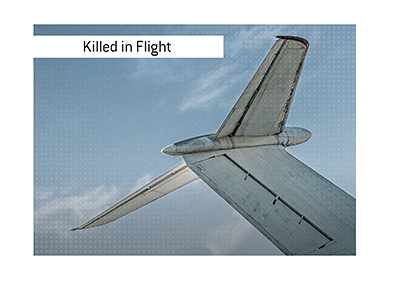 Len Koenecke made his Major League debut with the New York Giants on April 12th, 1932.
A little over three years later, Koenecke would be killed while trying to hijack an airplane.
-
Koenecke was born on January 18th, 1904 in Baraboo, Wisconsin.
Koenecke worked as a fireman before deciding to try his hand as a professional baseball player.
After playing minor league baseball for four years, Koenecke inked a deal with the New York Giants.
Koenecke had arrived.
-
After one season with the Giants, Koenecke joined the Buffalo Bisons of the International League, where he would hit .334 with 100 runs batted in.
In 1934, Koenecke joined the Brooklyn Dodgers, where he would have 14 home runs and 73 RBIs. Koenecke also proved himself as an excellent defensive player, and he had seemingly cemented himself a spot with the Dodgers.
In 1935, Koenecke's production fell way off, as he managed to hit just 4 home runs and 27 RBIs.
During the middle of a September road trip, Koenecke was cut from the Dodgers.
One day later, he'd be hijacking an airplane.
-
As he was returning home to New York after being cut, Koenecke decided to drink heavily to drown his sorrows.
Koenecke, in a drunken state, decided to start harrassing passengers and even hit a flight attendant.
Koenecke would be restrained by the pilot and would eventually pass out. He was removed from the flight.
After sleeping in the airport for a while, Koenecke had the bright idea of chartering a flight to Buffalo, thinking that he would rejoin the Brooklyn Dodgers on their road trip.
Koenecke, still in a state of turmoil, got into it with a passenger on the chartered flight, as well as the pilot.
Koenecke decided that he was going to commandeer the airplane.
The pilot, as well as the other passenger on the plane, both hit Koenecke over the head with a fire extinguisher, as Koenecke was intent on hijacking the airplane. The plane was "rocking" and "partly out of control" due to Koenecke trying to take over the controls, and the pilot (William Joseph Mulqueeney) and passenger had to act fast.
The plane made an emergency landing in Canada, and Koenecke died of a cerebral hemorrhage.
The pilot and the passenger would be charged with manslaughter, but would eventually be found not guilty.
-
This is the story of how Len Koenecke went from Major League Baseball player to failed plane hijacker over the course of just a single day.