Paul vs Askren Reportedly Pulls Number of 1.5 Million Buys
Published on April 18th, 2021 9:13 pm EST
Written By:
Dave Manuel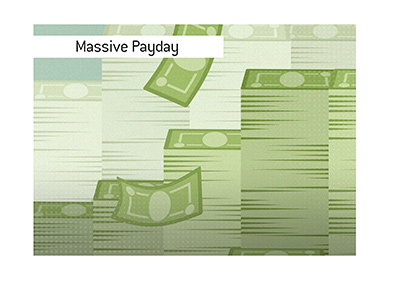 If Jake Paul is to be believed, there is a new King of combat sports in terms of drawing power.
Earlier today, Paul said that there had been 1.5 million buys of the Jake Paul vs Ben Askren PPV, which ended in Paul KO'ing former UFC fighter Ben Askren.
If these numbers are to be believed, this means that the Paul vs Askren PPV generated $75 million in revenue.
The 1.5 million PPV number would make Paul vs Askren the 7th biggest combat sports PPV of all time, tying it with Mayweather vs Cotto:
1. Mayweather vs Pacquiao, 4.6 million
2. Mayweather vs McGregor, 4.3 million
3. UFC 229: Khabib vs McGregor, 2.4 million
4. Mayweather vs Canelo, 2.2 million
5. UFC 202: Diaz vs McGregor 2, 1.6 million
6. UFC 257: McGregor vs Poirier 2, 1.6 million
7. Mayweather vs Cotto, 1.5 million
(Paul vs Askren, 1.5 million)
Given the amount of hype for Paul vs Askren, and given how much coverage it received on mainstream media, the 1.5 million PPV buy number wouldn't surprise me.
-
Just like that, Jake Paul is one of the biggest draws in all of combat sports.
If Paul picks the right opponent for his next fight, the next number will likely be significantly bigger.
Jake Paul and his team were very smart to wade into the mixed martial arts world to pick Ben Askren as an opponent, as the MMA vs boxing angle convinced many MMA fans to buy the PPV, hoping that Paul would get knocked out.
One issue for future fights is that some of the most desirable opponents for Paul (like Nate Diaz or Conor McGregor) are under UFC contract, so the UFC would have to sign off on them to fight Paul, and I'm not sure that they want to do that.
-
Practically everybody in boxing and mixed martial arts wants to step into the ring with Jake Paul now.
The reason? The payday will be massive, especially if they get a cut of the PPV buys.
-
Everybody wants to see Jake Paul vs Conor McGregor or Jake Paul vs Nate Diaz.
There is no doubt that both would sell exceptionally well.
A Paul vs McGregor PPV, however, would very likely draw north of 3 million PPV buys, which makes you ask the question:
Will McGregor and the UFC work out a deal to do the fight, similar to what they did with the McGregor vs Mayweather bout?
UFC President Dana White has dismissed the idea of a Paul vs McGregor fight, though if the money is big enough, anything could happen.
One thing is for sure - Jake Paul has pushed all of the right buttons and is destined to become very, very rich over his next number of fights.