Michael Vick, Jerry Rice Top List of Greatest Ever Games
Published on November 17th, 2020 2:00 pm EST
Written By:
Dave Manuel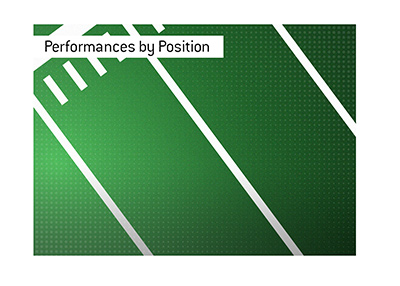 When you think about some of the greatest single-week fantasy football performances of all time, some players will probably immediately come to mind.
Jamaal Charles. Peyton Manning. Corey Dillon.
All of these players posted magnificent single-week performances that we STILL talk about to this day.
They didn't, however, post the best single-week fantasy football performances of all time for their positions (based on standard fantasy football decimal scoring).
Here are the greatest performances of all time by position:
Quarterback - Michael Vick
2010 was a magical year for Michael Vick, as he firmly re-established himself as one of the elite QBs in the NFL after his multi-year absence from the league.
On
November 15th, 2010
, the Eagles travelled to Washington to take on the Redskins on Monday Night Football.
Vick absolutely lit up the Redskins, as the Eagles would go on to win by a score of 59-28.
Here was Vick's stat line from the game:
20-28, 333 yards, 4 passing TDs
8 Rushes for 80 yards
2 Rushing TDs
No Interceptions
No Fumbles Lost
Add up these numbers and you arrive with a total of 49.32 fantasy points, which was the single greatest performance for a QB in the history of the modern NFL.
Other players, including Mark Rypien and Peyton Manning, came close to that total, though nobody has surpassed Vick as of yet.
-
Running Back - Clinton Portis
Note: Clinton Portis holds the record for most standard fantasy points by a running back in a game, though
Jamaal Charles holds the record
if you are doing 0.5 PPR or 1.0 PPR scoring.
On December 7th, 2003, the Denver Broncos played host to the Kansas City Chiefs, where they won by a score of 45-27.
Clinton Portis, who had already established himself as one of the top running backs in the league by this point, ran wild over the Chiefs, rushing for 218 yards on 22 carries.
Portis found the endzone five times on the ground, and he also caught 2 passes for an additional 36 yards.
Add these numbers up and you get a 55.4 point fantasy performance for Portis in standard scoring, which slightly edges out the likes of Shaun Alexander, Corey Dillon and Jamaal Charles.
-
Wide Receiver - Jerry Rice
Jerry Rice has two of the five top fantasy performances of all time by a wide receiver, including the all-time best total.
On October 14th, 1990, Jerry Rice posted this stat line in a game against the Atlanta Falcons:
13 Catches
225 Yards
5 Touchdowns
Joe Montana was still the San Francisco QB in 1990, and the Montana/Rice combo connected for 5 TDs threw the air (24 yards, 25 yards, 19 yards, 13 yards, 15 yards).
This was the single greatest game of Jerry Rice's vaunted career, as he posted a total of 52.5 points in standard fantasy scoring.
Five years later, Rice would post another monster game when he went off for 289 receiving yards and three touchdowns.
-
Tight End - Kellen Winslow
On November 22nd, 1981, Kellen Winslow of the San Diego Chargers absolutely went off against the Raiders, as he posted this stat line:
13 Receptions
144 Receiving Yards
5 Receiving Touchdowns
This resulted in a total fantasy point total of 44.4 points for Winslow, which is far and away the best one-day performance by a tight end in the NFL.
Three years later, Winslow would go off once again, catching 14 passes for 162 yards and three touchdowns.
-
Kicker - Rob Bironas
2007 was the best season of Rob Bironas' career, as he kicked a total of 35 field goals.
This included the best single day performance by a kicker ever, as Bironas booted a record 8 field goals on October 21st, 2007.