Green Light for Tottenham Hotspur's New Stadium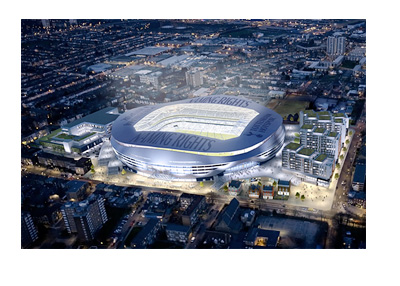 After overcoming legal hurdles involving a local firm, the Tottenham Hotspur's £400 million stadium project has finally begun to see the light of the day.
The project is at an advanced stage with the new stadium slated to come up adjacent to the club's present playing facility, White Hart Lane. Scheduled to open in 2018, the arena will be able to accommodate 56,250 spectators. The project will be pivotal to the development of the Tottenham stadium catchment area with new housing and shopping facilities adjoining the new arena. To that effect already 70 local business establishments have been relocated.
The bowl-shaped structure with the short end holding a single-tier home stand, will somewhat resemble the Emirates stadium of Arsenal FC. Often referred to as the Northumberland Development Project, the Tottenham stadium plan was presented to the city authorities way back in 2008. But a host of legal issues had held up the project for almost 7 years before it was cleared last week.
Tottenham, who are expected to move to the new facility in the 2018-19 season will probably have to play their games for at least one at a different venue while the construction work is in progress. They may have to alternate between Wembley and playing facilities of third-tier League One club, Milton Keynes.
Most of the funding for the stadium project has been cleared. The new arena will boost attendance by 50 per cent from the meager capacity of 36,000 at the White Hart Lane presently.
It may be noted at this juncture that Spurs had planned to move permanently to London's Olympic Stadium years ago but city rivals West Ham beat them to it.
At a certain point of time the club was contemplating enhancing capacities at White Hart Lane or moving out to an already existing stadium like the Wembley or the Olympic stadium. But with the clearance of the stadium project, Tottenham Hotspur are on the way to possessing a wonderful showpiece of their own.