Chelsea FC Financials - Broadcast, Commercial and Matchday Revenues in the 2011/12 Season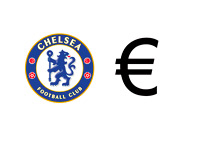 Chelsea FC are the world's fifth largest football club in terms of revenues according to the accounting company Deloitte and their annual report called 'Football Money League'.
Chelsea revenues in the 2011/12 season amounted to €253.1m, which is a 14% increase compared to the year before. The growth was largely due to the club's on-field performance as Chelsea won the UEFA Champions League as well as the FA Cup.
Chelsea's broadcast revenues for the season totalled €139.4m. The UEFA Champions League run alone brought in €59.9, while the club received €67.2 from the English Premier League where they finished in 6th place.
Commercial revenues totalled €87.1m due to shirt sponsorship deals with Samsung and Adidas. For the 2012/13 season Chelsea signed contracts with Gazprom, Delta, Audi and Singha which should further boost their revenues in the new accounting year.
Chelsea achieved 98% utilization of their stadium Stamford Bridge where their average home league match attendance was 41,478. The average matchday revenues were €3.2m and their total Matchday revenues for the season were €96.1m.
What does the 2012/13 financial season have in store for Chelsea? It looks as Chelsea will likely finish 3rd in the English Premier League and they managed to win the UEFA Europa League after getting knocked out of the Champions League early. Chelsea also participated in the UEFA Super Cup and the FIFA Club World Cup. It is probably safe to assume that Chelsea will maintain their fifth place ranking in the 'Deloitte Football Money League' as the teams above Chelsea (Real Madrid, Barcelona, Manchester United and Bayern Munich) all performed better on the pitch, while the teams ranked under Chelsea (Arsenal, Manchester City, AC Milan, Liverpool etc.) did not do as well.
For a full list of top teams on the 'Deloitte Football Money League' list please
click here
.