Floyd Mayweather v Nasukawa Odds
Published on December 29th, 2018 5:36 pm EST
Written By:
Dave Manuel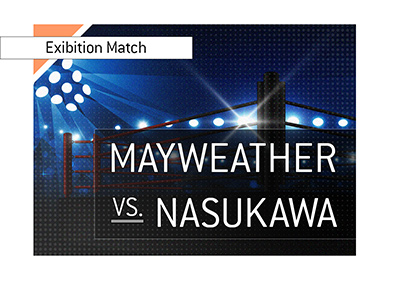 At Rizin 14 FF on New Year's Eve, Floyd "Money" Mayweather will be taking on Tenshin Nasukawa in a three-round exhibition boxing match.
If you are wondering why Mayweather would take a bout in Japan, the answer is - money. According to reports, Mayweather will earn as much as $88 million from this exhibition fight, with over $60 million having been guaranteed and the rest coming from PPV sales.
Tenshin Nasukawa is a 20 year-old kickboxing phenom that has rapidly become one of the biggest names in sports in Japan. Nasukawa is undefeated in both kickboxing and MMA fights so far during his young career, and potentially has the ingredients to make things very interesting for Mayweather over the course of the three-round exhibition. Nasukawa is a southpaw, has fantastic footwork and is remarkably quick.
If Mayweather decides to start slow, he may end up losing a decision in the exhibition, especially in front of judges that might be pro-Nasukawa.
While the result of this bout won't appear on Mayweather's perfect record, there is no doubt that his legacy would take a hit if he ended up losing this bout.
According to the rules of the exhibition bout, there are to be no kicks or elbows. Mayweather is not a fool, and there is no way that he would have agreed to a kickboxing match against Nasukawa.
-
While Mayweather is the favourite to win, how confident can you be taking him? Sure, he is 50-0 over the course of his professional boxing career, though how will he fare in a three-round exhibition bout, where his opponent won't be worried about tiring out?
Let's take a look at the odds for this bout:
Floyd Mayweather, -340
Tenshin Nasukawa, +260
As you can see, Mayweather is certainly the favourite to win, though not an OVERWHELMING favourite by any stretch.
This fight should be surreal and bizarre to watch, and there is certainly a very great chance that it ends in controversy.