Floyd Mayweather Clear Favourite To Win Rematch With Manny Pacquiao
Published on September 21st, 2018 5:51 pm EST
Written By:
Dave Manuel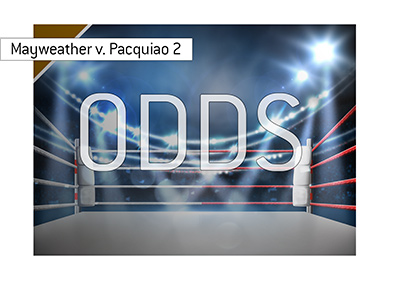 Did anybody actually think that Floyd "Money" Mayweather would actually stay retired after collecting a $300 million payday from his fight against Conor McGregor? Didn't think so.
Floyd Mayweather, who currently sports a perfect 50-0 record as a professional fighter, is reportedly looking to return to the boxing ring at least a few more times.
One of these fights is rumored to be a rematch against Manny Pacquiao.
Mayweather and Pacquiao went toe-to-toe a few years ago, with Mayweather winning the fight via decision. There was some controversy, as Pacquiao fought against Mayweather with an injured shoulder. This will surely be a selling point for the second fight, if it does happen.
Mayweather/Pacquiao and Mayweather/McGregor are two of the biggest fights in the history of the sport, so it shouldn't surprise anybody that Mayweather wants to run it back with Pacquiao. This rematch and one against Conor McGregor would certainly give Mayweather his two biggest paydays, and we know that Mayweather loves to blow through his money.
According to Mayweather, he wants a tune-up fight before squaring off against Pacquiao, likely sometime next year.
-
Unsurprisingly, Floyd Mayweather is the clear favourite to win against Pacquiao.
While Mayweather is getting older and further away from his prime - so is Pacquaio.
Let's take a look at the betting odds for this fight as of this moment:
Floyd Mayweather, -230
Manny Pacquiao, +180
The over/under:
Over 11.5 Rounds, -325
Under 11.5 Rounds, +215
Method of Victory
Mayweather by KO, TKO or DQ, +400
Pacquaio by KO, TKO or DQ, +400
Mayweather by Decision or Technical Decision, -125
Pacquiao by Decision or Technical Decision, +400
Draw or Technical Draw, +1800
-
Mayweather will look to win this fight in the same way that he wins all of his fights - through his extremely effective defensive boxing style that has essentially left him untouched throughout his entire career.
Pacquiao will be looking for the kill shot, though penetrating Floyd's defenses has proven to be impossible for a long string of fighters, including Pacquiao himself.
Will anything change when these two men step into the ring? Probably not.
Will people buy the fight? You bet.