There Have Only Been Two Unanimous MVP Winners in Award's History
Published on January 28th, 2023 6:05 pm EST
Written By:
Dave Manuel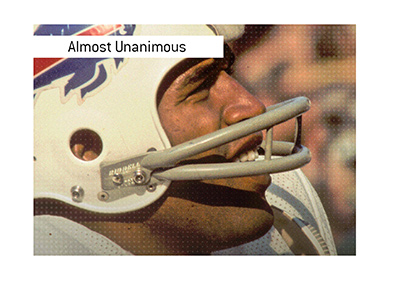 There have been two unanimous MVP award winners in the NFL since 1957 - Tom Brady (2010) and Lamar Jackson (2019).
That number should be even higher.
There have been no less than eight occasions when the winner of the MVP CLEARLY should have been unanimous but wasn't.
In these cases, the votes for players other than the MVP award winner were laughable, and you can't help but think that the writer had some sort of a grudge against the eventual winner.
Here are the eight times when the MVP award winner clearly should have been unanimous but wasn't:
1973 -
O.J. Simpson
O.J. received 74 out of a possible 78 votes in 1973.
Simpson's numbers were otherworldly that year, as he rushed for over 2,000 yards and had 12 touchdowns.
The other four votes were split between Los Angeles Rams QB John Hadl and Los Angeles Rams WR Harold Jackson.
Hadl threw for 2,008 yards and 22 touchdowns in 1973, while Jackson caught 40 passes for 874 yards and 13 touchdowns.
I know that the Rams went 12-2 while the Bills finished 9-5, but come on - Simpson breaking the 2,000 yard mark in just 14 games was an unbelievable accomplishment.
-
1989 -
Joe Montana
Joe Montana received 62 out of a possible 70 votes for MVP in 1989, with Don Majkowski receiving 6 votes asnd Keith Millard receiving 2.
Despite playing in just 13 games in 1989, Joe Montana still threw for 3,521 yards and 26 touchdowns, while leading the 49ers to a 14-2 record.
Majkowski had a very good year in 1989, throwing for 4,318 yards and 27 touchdowns, though he also threw for 20 interceptions and the Packers went just 10-6.
Voting for Majkowski in 1989 over Joe Montana was definitely a head-scratcher.
-
2004 -
Peyton Manning
This is one of those votes where you just assume that one of the voters didn't like Peyton Manning or simply wanted to be different.
In 2004, Manning received 47 out of a possible 48 votes.
Mike Vick received the other vote.
Now, Michael Vick had a very good season in 2004, as he threw for 2,313 yards and rushed for 902 more, but Peyton Manning was CLEARLY the MVP, throwing for 4,557 yards and 49 touchdowns.
The Colts also finished with a better record than the Falcons in 2004.
This was laughable.
-
2006 -
LaDainian Tomlinson
In 2006, LT finished with 44 out of a possible 50 votes for MVP. Drew Brees finished with 4 votes, while Peyton Manning collected 2.
Brees and Manning both had very nice seasons in 2006, with both throwing for about 4,400 yards.
LT had a season for the AGES in 2006, however, as he ran for 1,815 yards, posted 508 receiving yards and found the endzone an unbelievable 31 times.
In addition, the Chargers finished 14-2-0 in 2006.
A travesty that LT didn't sweep the voting.
-
2007 -
Tom Brady
In 2007, Tom Brady received 49 votes for MVP, while Brett Favre received 1 vote.
Somebody clearly didn't like Tom Brady, as the side-by-side numbers for the two QBs clearly told the story of who should be MVP:
Tom Brady
4,806 yards
50 TDs
8 Ints
Brett Favre
4,155 yards
28 TDs
15 INTs
In addition, the Patriots didn't lose a game that season.
The single vote for Brett Favre may be one of the most foolish MVP votes in the history of the award.
-
2013 -
Peyton Manning
In 2013, Peyton Manning received 49 out of a possible 50 votes for MVP, while Tom Brady receiving a vote as well.
This is the runner-up for the most outrageous vote in MVP history.
In 2013, Manning passed for 5,477 yards and 55 touchdowns.
Brady, on the other hand, passed for 4,343 yards and 25 touchdowns.
The Broncos went 13-3, while the Patriots went 12-4.
You tell me how voting for Tom Brady makes sense.
-
2015 -
Cam Newton
In 2015, Cam Newton received 48 out of a possible 50 votes, with Tom Brady and Carson Palmer both receiving a vote each.
"Killa Cam" was unstoppable in 2015, throwing for 3,837 yards and 35 touchdowns, while rushing for 10 more on the ground.
Brady and Palmer both had VERY good years, as they each threw for around 4,700 yards, but Newton was an unstoppable force of nature, leading the Panthers to a 15-1 record.
-
2018 -
Patrick Mahomes
In 2018, Mahomes finished with a total of 41 votes, while Drew Brees claimed the other nine.
Sure, the Saints finished with a slightly better record than the Chiefs (13-3 vs 12-4), but Mahomes was absolutely ridiculous in 2018, transforming the Chiefs offense into a juggernaut.
Mahomes would throw for 5,097 yards and 50 touchdowns in 2018, while Brees would pass for 3,992 yards and 32 touchdowns.
Brees had a strong year in 2018, but Mahomes threw for over 5,000 yards and had 50 passing touchdowns.
There is no question that Mahomes should have been unanimous in 2018.
Source:
NFL MVP Voting History