Eddie Waitkus Nearly Died After Run-In With Obsessed Fan
Published on May 16th, 2023 7:32 pm EST
Written By:
Dave Manuel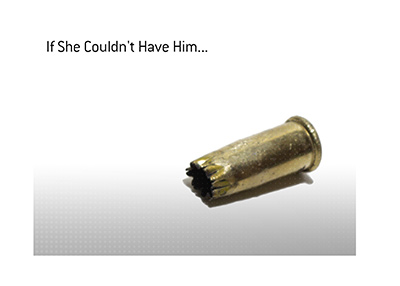 On June 14th, 1949, Philadelphia Phillies star Eddie Waitkus was shot in the chest by an obsessed fan.
After nearly losing his life on the operating table, Waitkus made his triumphant return to the league the following year, when he won the Associated Press Comeback Player of the Year.
-
In one of the first cases of celebrity stalking, Ruth Ann Steinhagen developed an infatuation with Eddie Waitkus after seeing him play for the Chicago Cubs.
Steinhagen, a 19 year-old typist at the time, started to regularly attend Chicago Cubs games.
Steinhagen built a shrine for Waitkus in her home, and even started studying Lithuanian after learning that Waitkus was of Lithuanian descent.
Somewhere along the line, Steinhagen hatched the idea of killing Waitkus.
-
After Waitkus was traded from the Chicago Cubs to Philadelphia Phillies, Steinhagen's life was in shambles.
Unable to easily travel to Philadelphia, Steinhagen continued to build her shrine to Waitkus at her home, filling her room with hundreds of pictures and newspaper clippings.
On June 14th, 1949, the Phillies travelled to Chicago to play the Cubs, and Steinhagen was in attendance at the game.
Little did the world know that Steinhagen was about to pull off a most diabolical plan.
-
Steinhagen registered herself at the same hotel as Waitkus, and had a bellboy deliver a note, asking Waitkus to come to her room on an "extremely important" matter.
Waitkus thought that the writer of the note, who used an alias of "Ruth Ann Burns", was a friend of a woman he was dating at the time.
After calling the room to try and get more information, Waitkus decided to pay "Ruth Ann Burns" a visit, which was a move that nearly cost him his life.
-
After entering the room, Steinhagen told Waitkus that she "had a surprise for him".
The surprise was a .22 caliber rifle, which she used to shoot Waitkus in the chest.
As Waitkus lay on the floor, at death's door, Steinhagen called down to the front desk to inform them that she had "just shot a man".
According to Waitkus, Steinhagen told him that if "she couldn't have him, nobody could".
-
Waitkus was saved after surgery removed the bullet, which was lodged in one of his lungs.
Steinhagen would be institutionalized until 1952, when she was declared cured and released. Waitkus declined to press charged, stating that he simply wanted to move on.
-
Waitkus would miss the remainder of the 1949 season as he recovered, and would eventually return to the Phillies in 1950.
Waitkus would bat .284 in 1950, knocking in a total of 44 RBIs.
Eddie Waitkus would be named the Associated Press Comeback Player of the Year.
-
Waitkus would play for five more seasons after that, before retiring at the age of 35.
Steinhagen, on the other hand, would spend the rest of her life "living in the shadows", avoiding any press or other discussions about the fateful day that she shot Eddie Waitkus.