Eddie Gaedel Stood Just 3'7 While Weighing 60 Pounds
Published on March 4th, 2023 1:21 pm EST
Written By:
Dave Manuel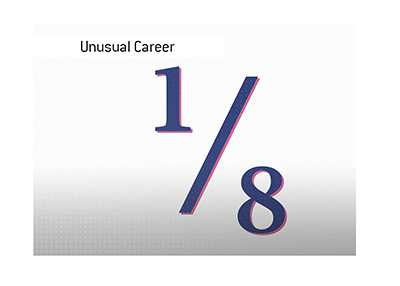 Did you know that a person who stood just 3'7 and weighed 60 pounds once played in a Major League Baseball game?
Did you also know that this person wore the jersey number 1/8?
Here is the story of Eddie Gaedel.
-
Eddie Gaedel was born on June 8th, 1925.
Gaedel, who was a "little person" that stood just 3'7 and weighed just 60 pounds, was a performer, taking various jobs as mascots.
The owner of the St. Louis Browns, Bill Veeck, wanted to pull off a stunt during one of his team's games.
Veeck liked doing these sorts of things.
What would happen, Veeck asked himself, if we signed a "little person" to a contract and had them appear in a game?
-
Gaedel signed a contract (in secret) with the Browns, and the contract was sent into the league's head offices.
The plan was for Gaedel to come out of a fake cake in between the two games of a doubleheader between the Browns and Detroit Tigers. The ceremony was set to celebrate the 50th anniversary of the American League.
Gaedel, who wore the number 1/8, entered the game in the first inning as a pinch hitter.
Gaedel had STRICT instructions - enter a tight crouch in the batter's box and DO NOT swing at ANY pitches.
This created an unbelievably tight strike zone that reportedly measured at just 1 1/2 inches.
-
Bob Cain was on the mound for the Tigers, and Bob Swift was catching.
Swift went to his knees to try and deal with the diminuitive batter.
Cain whizzed in two pitches and they both went high for balls. The count was 2-0.
Cain tried to switch up his gameplan by lobbing in the next two pitches, though they were both balls as well.
Gaedel even abandoned his tight crouch halfway through the at-bat, though Cain still couldn't throw any strikes.
The 3'7, 60 pound Gaedel was walked in four straight pitches.
The home crowd gave Gaedel a standing ovation when he trotted to first base, and Gaedel was taken out of the game for a pinch runner.
Gaedel would never have another at-bat.
-
Gaedel was paid $100 for his short Major League Baseball career, which works out to a little over $1,000 in today's dollars.
American League President Will Harridge was infuriated by the stunt and voided Gaedel's contract the day after he played.
Harridge claimed that Veeck and Gaedel were making a mockery of the game.
Veeck, who was always up for a good troll, publicly wondered if Phil Ruzzuto (reigning American League MVP who stood at 5'6) was a "short ballplayer or a tall dwarf".
If Veeck had wanted attention from the stunt, he had certainly gotten it.
-
Gaedel was temporarily removed from the record books, though he would be reinstated a year later, and ended his career with a perfect on-base percentage of .1000.