Ellis Can Only Recall "Bits and Pieces" of the Game
Published on December 23rd, 2022 3:13 pm EST
Written By:
Dave Manuel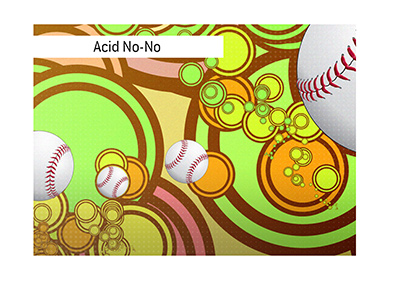 On June 12th, 1970, Dock Ellis of the Pittsburgh Pirates tossed a no-hitter against the San Diego Padres.
That's not the interesting part.
The interesting part is that Dock Ellis was on acid at the time.
-
The Pittsburgh Pirates travelled to San Diego on Thursday, June 11st for a weekend series.
Ellis was set to pitch against the Padres on Friday, but he decided to visit some friends in Los Angeles anyways.
Ellis, who had issues with substance abuse, decided to take some acid. Ellis and his friends would lose track of time after dropping acid multiple times throughout the night.
On Friday afternoon, Ellis and his friends were still going strong. Ellis was so out of it that he dropped some more acid, thinking that it was still Thursday.
It wasn't.
At 2 pm on Friday afternoon, the girlfriend of one of Ellis' friends informed him that he was scheduled to pitch that evening.
Not only was Ellis high on drugs, but he also had to travel from LA to San Diego in time for the 6:05 pm game.
Ellis managed to make it to the airport, where he caught a 3 pm flight to San Diego.
Ellis would make it to the stadium with 90 minutes to spare.
-
Getting to the game would have been good enough for most people, but Dock Ellis decided to take it one further.
He threw a no-hitter.
Ellis, who later stated that he couldn't feel the ball or even see his catcher clearly, would strike out six Padres' hitters en route to the no-hitter.
Ellis also received some help from his defense, who managed to make some big plays in the field.
According to Ellis himself, he was so high that he thought that he was pitching against Jimi Hendrix at one point. Also, he thought that Richard Nixon was the home plate umpire.
Ellis said that he was in a euphoric state during the game, and that he would spend long periods of time staring into space.
Somehow, Ellis would complete his no-hitter.
-
Some people have doubted Ellis' story, believing that there is no way that a MLB pitcher could toss a no-hitter while high on acid.
Other people close to Ellis say that they 100% believe the story, and that Ellis did, indeed, throw a no-no after dropping acid.