Post-UFC 270 Antics Highlight Division Between UFC President and Heavyweight Champion
Published on January 23rd, 2022 3:29 pm EST
Written By:
Dave Manuel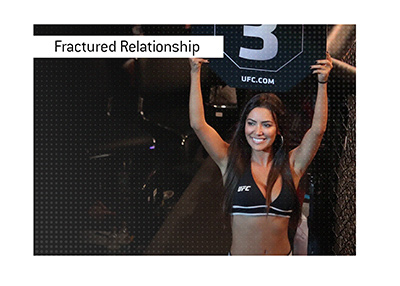 Note: this article is an opinion and of a speculative nature
-
There was a time when UFC President Dana White was fully behind the Francis Ngannou hype machine. White would often boast about Ngannou's punching power and brag that the Cameroonian was going to be a future superstar for the company.
Fast forward to UFC 270, and Dana White didn't even bother to wait to put the Heavyweight belt around Ngannou's waist after he successfully outlasted Cyril Gane to unify the two Heavyweight titles.
What happened?
You'd think that the UFC would be pushing Ngannou as hard as possible. After all, Ngannou is extremely likeable, a frightening Heavyweight brawler (in the same vein as a Prime Mike Tyson) and has a fascinating backstory.
On top of that, Ngannou would seemingly help the UFC penetrate the African market, where he is one of the continent's biggest stars.
Instead, Ngannou and the UFC seem to have a more fractured relationship than ever.
The question - why does Dana White seem to dislike Francis Ngannou so much?
This is obviously speculation, but here are some very possible reasons for the acrimony between the two sides:
1.
Francis Ngannou has publicly complained about his deal.
The UFC has a "
champion's clause
" that allows them to automatically extend the contracts of their champion fighters.
Ngannou feels as though this is costing him serious money, and that the UFC has no reason to re-negotiate his contract.
The UFC does NOT like their fighters to publicly grouse about their contracts. The UFC is a money-making machine, largely due to the fact that they pay such a small percentage of their revenues (relative to other sports leagues) to their fighters.
2.
The UFC does not like Francis Ngannou's management team.
Here is the fastest way to get on the wrong side of the UFC - hire a management team that is not specifically focused on the mixed martial arts world.
Francis Ngannou is represented by Marquel Martin, who works for CAA, which reps a number of talents from different industries.
Dana White has trashed similar management teams in the past - remember how often he'd complain about St. Pierre's management team, or Gina Carano's team?
These management teams are not primarily focused on MMA, and are looking to expose their clients to as many markets as possible. This leads to point number three..
3.
The UFC does not like Francis Ngannou's interest in boxing.
The UFC's support of a Conor McGregor vs Floyd Mayweather fight was a once-in-a-generation thing, mainly due to the massive amount of money that they realized from the fight.
It's not secret that Ngannou wants to fight Tyson Fury, as it would be a massive payday for the Cameroonian star.
The UFC wants nothing to do with that fight, even if they could make a healthy cut from it, as the fight would help to illustrate just how little they pay most of their stars in relation to boxing.
This is the same reason why the UFC will likely never agree to let somebody like Jorge Masvidal or Nate Diaz fight Jake Paul while under contract.
4.
The UFC wants their fighters to fight when the promotion wants.
It's no secret that the UFC wanted Ngannou to fight in the second half of 2021.
Ngannou asked to push the targeted fight date back, as he had long-standing plans to travel back to his homeland in Cameroon.
The UFC responded by making an interim Heavyweight title fight between Gane and Derrick Lewis, which Gane eventually won.
5.
Cyril Gane was supposed to lead the UFC back into the French market.
Mixed martial arts was legalized in France in 2020, and due to the pandemic, the UFC still hasn't been able to host an event in that market.
There is no doubt that the UFC had wanted to headline a card in France with Heavyweight champion Cyril Gane, but that will no longer happen.
For some reason, the UFC doesn't think that Ngannou, who lived in France for a number of years, would have the same pull in the country.
-
How does the UFC fix this situation? Dana White didn't put the belt on Ngannou, plus the UFC President skipped the post-fight press conference, so he is clearly heated about the situation.
Can the two sides figure things out? In the past, Lorenzo Fertitta would sometimes step in to negotiate when there was clearly acrimony between Dana White and a fighter.
With Fertitta out of the picture, can things be smoothed over? Would the UFC be willing to pay Ngannou more money? Can they get behind their Cameroonian superstar again?
This is going to be very interesting going forward, as both sides seem to be sticking to their guns.