Champion's Clause Allows UFC To Automatically Extend Contracts of Champions
Published on January 19th, 2022 4:32 pm EST
Written By:
Dave Manuel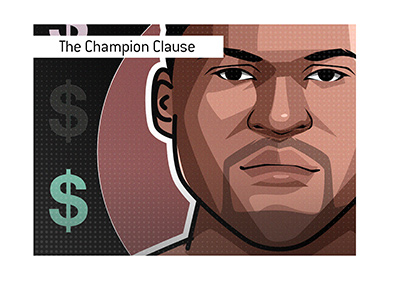 A nightmare scenario for the UFC would look like this:
One of their fighters wins a title while on the last fight of their deal.
Instead of re-signing with the UFC, the fighter uses their leverage to sign with a rival promotion.
This is the scenario that the UFC avoids with their "champion's clause", which is standard in all of their deals.
According to this article in Forbes
, the usual champion's clause looks like this:
"At the expiration of the Term, Fighter is then a UFC champion, the Term shall automatically be extended for the period commencing on the Termination Date and ending on the earlier of (i) one (1) year from the Termination Date; or (ii) the date on which Fighter has participated in three (3) bouts promoted by ZUFFA, regardless of weight class or title, following the Termination Date ("Extension Term")."
The most commonly held theory was that champions with expiring contracts were automatically extended for one more fight, but that doesn't seem to be the case.
Instead, champions are extended for either three fights or 1 year, whichever comes first.
There could be changes to the champion's clause depending on which fighter's contract we are talking about (Conor McGregor, for instance, might have different language in his contract due to his standing in the company), though the clause referenced above is the clause found in the contracts of most UFC fighters.
-
The "Champion's Clause" is a relevant issue due to Francis Ngannou and his upcoming fight at UFC 270.
It is no secret that Ngannou wants a new contract, plus he wants the flexibility to box.
The UFC is in no hurry to give Ngannou a big new deal, because they retain almost all of the leverage.
If Ngannou wins on Saturday night, he would remain under contract with the UFC, as apparently he has already had his contract extended under the "Champion's Clause".
If Ngannou loses on Saturday night, he would become a free agent (as the Champion's Clause would expire), though he would lose some of his star power due to losing to Gane.
-
The frustration of Ngannou has been apparent, as he will likely never be as valuable as he is right now (dominant UFC champion), though he doesn't have the leverage with the UFC due to the Champion's Clause.
It's interesting to note that rising young stars such as Sean O'Malley actually have more leverage than champions like Francis Ngannou.