Team Owners Bought Second Team - And Traded Away All Cleveland's Best Players
Published on May 12th, 2022 12:00 pm EST
Written By:
Dave Manuel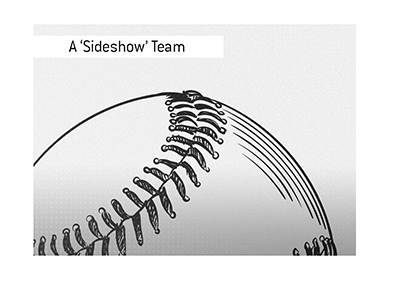 The owner of a baseball team buys a SECOND Major League Baseball team and trades away all of a team's best players to that second team.
Can you imagine this happening in this day and age?
That is exactly what happened to the Cleveland Spiders in the 1899 season.
The team's owners - Frank and Stanley Robison - decided to buy the St. Louis Browns (they'd rename them the Perfectos) in 1899. The team was bankrupt, though St. Louis was considered to be a very good market, as the team was able to draw large crowds.
Cleveland? Not so much.
So, after buying the Perfectos WHILE STILL owning the Spiders, Frank and Stanley Robison decided to trade away all of the Spiders' best players to the St. Louis franchise.
The team traded away some REALLY good players - Hall of Famers, in fact, that included the likes of Cy Young, Jesse Burkett and Bobby Wallace.
What did Cleveland get back? Essentially nothing.
In fact, even the Cleveland manager, Patsy Tebeau, went to the St. Louis franchise as well.
-
With essentially zero Major League players, Cleveland started their infamous season.
Everyone knew that the team would be awful - in fact, a Plain Dealer headline proclaimed that "THE FARCE HAS BEGUN" after the Spiders lost their first game, 10-1.
After getting off to a terrible start, the Spiders traded MORE players away, and essentially became even more awful.
So awful, in fact, that the club lost their last 40 out of 41 games to finish with a record of 20-134, which is still the worst in the history of Major League Baseball.
The team finished 84 games behind the pennant winners, the Brooklyn Superbas, and 35 games behind the next closest team in the standings.
The team's longest winning streak of the 1899 season was just two games.
-
The team's owners said that the Spiders were a "sideshow" and fans stayed away.
In fact, after their first 16 home games of the season, the Spiders were averaging just 200 people per game.
Things were so bad, in fact, that other teams refused to travel to their park, as their cut of the ticket revenues would be so low, and it wasn't worth their time to make the trip.
This resulted in the Spiders playing the vast majority of their games on the road. The 101 road losses that the Spiders posted in the 1899 season will almost certainly never be topped, as currently MLB teams only play 81 games.
-
The Spiders were disbanded at the end of the 1899 season, and rules were put in place to prevent owners from owning more than 1 team.