Logan Paul A Massive Underdog To Beat Floyd Mayweather
Published on May 7th, 2021 4:51 pm EST
Written By:
Dave Manuel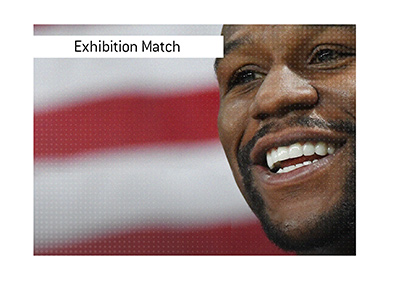 Can Logan Paul actually beat Floyd Mayweather in a boxing match?
The answer is no.
The odds would seem to say that Logan Paul actually has a chance of beating Mayweather, who is arguably the greatest boxer of all time.
After all, the current odds for the fight at Bovada have Logan Paul as a +800 underdog.
The implied odds of Paul winning the fight, based on these odds? Over 11%.
That is the definition of a sucker's bet.
Logan Paul, who is 0-1 as a professional boxer, has a 0% chance of beating Floyd Mayweather in a boxing match.
0%.
Not 0.1%. Not 0.01%.
0%.
Floyd Mayweather has 50 wins as a professional boxer, with many of those fights coming in title fights.
Floyd Mayweather has beaten the likes of Manny Pacquiao, Canelo Alvarez and Miguel Cotto, just to name a few.
Floyd Mayweather has not only never lost a boxing match, but he has never even been knocked down.
-
But Logan Paul is significantly bigger and younger than Floyd Mayweather, you might say. Couldn't he land a lucky punch?
Here is the thing. Floyd Mayweather is already one of the quickest boxers in the world, and his defensive mastery of the sport is second to none.
Even in his 40s, Mayweather will never allow the much slower Logan Paul to land a clean shot - there is just no way.
Floyd Mayweather would likely still beat most or all of the boxers near his weight class, even in a state of semi-retirement.
Going against an opponent with hardly any boxing experience who will be considerably slower?
If Floyd Mayweather takes this even somewhat seriously, Logan Paul is going to get embarrassed.
Logan Paul has 0% chance of winning this fight.
Don't fall for the sucker's bets.