Mike Tyson vs Buster Douglas Recently Topped
Published on October 14th, 2021 5:25 pm EST
Written By:
Dave Manuel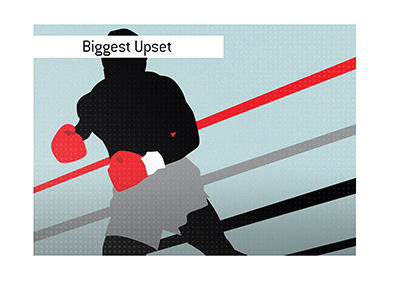 For many years, the biggest upset in the history of boxing was when Buster Douglas shocked Mike Tyson in Tokyo, Japan.
Heading into that bout, Mike Tyson was a -4300 favourite to win. This meant that you would have needed to wager $4,300 on Tyson in order to have a chance of winning just $100 in profit.
Tyson/Douglas held the title of biggest upset in boxing history for roughly 30 years, though the title of "biggest ever upset" was recently snatched away by Vito Mielnicki Jr. vs James Martin.
This fight, which was broadcast on "Fox Fight Night" on April 17th, 2021, saw Vito Mielnicki Jr. listed as a -5000 favourite to win, while James Martin was a +1400 underdog.
Mielnicki Jr., known as "White Magic", entered the fight with a perfect 8-0-0 record, and seemed to be practically unbeatable.
James Martin, with his record of 6-2-0, was sent to pad Mielnicki's record in front of a national audience.
Or so everybody thought.
-
James Martin would shock the world that night, outpointing Mielnicki Jr. en route to a decision win.
"White Magic", a very accomplished amateur boxer who had won his first eight professional bouts, was given his first loss in front of a national audience.
-
In the end, it wasn't a lucky punch that beat Mielnicki - instead, Martin soundly beat him over the course of the fight, aided by an early punch that caused damaged to Mielnicki's nose.