Mike Trout, Bryce Harper Lead List of Biggest MLB Contracts
Published on December 13th, 2019 9:32 pm EST
Written By:
Dave Manuel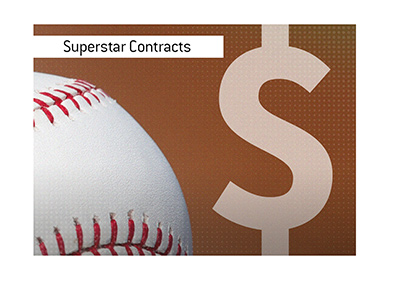 Remember, all the way back in 2011, when Alex Rodriguez signed his monster contract with the Texas Rangers?
At the time, Rodriguez was making an unimaginable amount of money. How would the Rangers afford such a monster contract? Wouldn't they go bankrupt?
Well, less than 20 years later, A-Rod's contract looks tiny in comparison to the deals that are currently being signed by baseball's biggest superstars. The business of Major League Baseball continues to grow, and the money continues to pour in.
Let's take a look at the five biggest contracts (by total $ value):
1. Mike Trout, 12 years, $430,000,000
Mike Trout is worth every penny of this contract. As a matter of fact, you could easily make the case that this contract undervalues Trout. There is no doubt that Trout could have made more money on the open market, though he chose to remain with the Angels.
Trout, despite being just 28 years of age, is an 8x All-Star and 3x American League MVP. Trout is one of the most well-rounded players in the history of the game, as he hits for average, hits for power, steals bases and is a competent outfielder.
There is no doubt that Trout will go down as one of the greatest players to have ever played the game, and $35.83 million a year for this superstar is a steal (pun intended).
2. Bryce Harper, 13 years, $330,000,000
If you ask Bryce Harper, it wasn't his choice to leave the Washington Nationals.
According to multiple reports, the Nationals offered Harper deferred money as part of his deal, which essentially forced him into free agency.
There were multiple suitors for Harper's services, though he ultimately decided on the Philadelphia Phillies.
Harper is capable of looking like the best player in baseball one night, only to look decidedly mediocre the next. He can hit 40 home runs in a year, though his batting average tends to be pretty terrible.
Harper is easily one of the most polarizing players in the game, and it will be very interesting to see if he ends up finishing his career with the Phillies.
3. Giancarlo Stanton, 13 years, $325,000,000
Stanton signed his eye-popping deal with the Miami Marlins, only to be traded to the New York Yankees. The Miami Marlins are in a seemingly perpetual state of chopping their payroll, so this trade certainly didn't come as a surprise.
When healthy, Stanton is one of the most electrifying players in Major League Baseball. There were plenty of injury issues with Stanton in 2019, however, as he only played 18 games.
Stanton is 30 years of age and the Yankees still owe him 7 years on his contract, so the team is certainly hoping that Stanton's body will co-operate.
Stanton still has some prime years left, so this contract could end up looking like a deal if Stanton can get healthy.
4. Gerrit Cole, 9 years, $324,000,000
Gerrit Cole is regarded as one of the very best pitchers in Major League Baseball, if not the best.
There was no surprise when Cole revealed that he would be leaving the Houston Astros after the 2019 season, as he was unhappy with how he had been used in the World Series.
Unlike the previous year, when the market for free agents was very slow, Cole was the beneficiary of a strong market for top-end talent, as multiple teams announced that they would be willing to pay top dollar for his services.
The New York Yankees indicated that they would not be outbid for Cole, and eventually signed him to a 9-year deal.
The Yankees have been lacking a true ace in recent years, so this move was welcomed by the team's legion of fans.
This signing immediately made the Yankees the team to beat in the 2020 season.
5. Manny Machado, 10 years, $300,000,000
In previous years, Machado's talent would have been snapped up quickly.
The 2018-19 offseason was an outlier, however, as Machado and Harper sat unsigned for months.
Event the San Diego Padres gave Machado and his team what they wanted, and that was one of the biggest contracts in Major League Baseball.
Machado's first season in San Diego had to be considered a disappointment, as he hit .256 with 32 home runs and 85 RBIs. Respectable numbers, to be sure, though likely not deserving of a $300 million contract.