Could Major League Baseball Actually Cancel 2020 Season?
Published on June 15th, 2020 7:51 pm EST
Written By:
Dave Manuel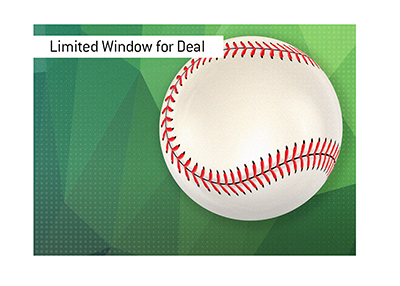 Last week, Major League Baseball Commissioner Rob Manfred said that he was "100% confident" that the players and owners would work things out and play an abbreviated 2020 season.
This week, the commissioner is much less optimistic about baseball's return, though this could obviously be a negotiating tactic.
In an interview with ESPN earlier today, Manfred said that he was "not confident" that baseball would return this season, and that the two sides were not currently talking.
This impasse comes at a time when other leagues, including the English Premier League, NBA and NHL, are all nearing their returns to action.
-
The owners and players in Major League Baseball currently disagree on a wide number of points, including how much salary players should be paid, how many games should be played this season and more.
Late last week, the Major League Baseball Player's Union said that they were done negotiating with the owners and that they would wait for a schedule for a truncated season.
In March, the two sides agreed that a shorter season would be played, but many of the details of a return to action were left out.
Now, with the days counting down, the two sides remain far apart on a potential deal.
At a time when the world is battling a pandemic and unemployment rates are soaring, baseball's players and owners can't seem to agree on a course of action to return.
This has subjected the league to a tremendous amount of derision from the public. How could they not work out a deal to return? Could they possibly be this stupid?
-
Ratings have been through the roof for the sports that have already returned to action, and the NBA and NHL will likely be no different.
If Major League Baseball decides to cancel this season, the damage to the sport will be incalculable and the damage to the league would be lasting.
Baseball fans are hoping that this is just a negotiating tactic on behalf of Rob Manfred, though confidence in a 2020 season seems to be waning by the day.
There is a very limited window of opportunity to agree to a deal, as all of the details of a return need to be ironed out, training camps need to be held, etc.
It's time for the two sides to figure this mess out, or everyone involved will lose.