Barry Sanders' 1988 Season at Oklahoma State May Never Be Topped
Published on September 10th, 2022 2:05 pm EST
Written By:
Dave Manuel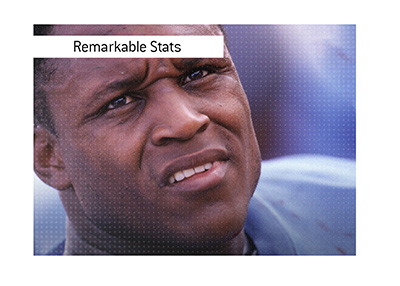 There have been some phenomenal individual seasons in college football, though you will be hard-pressed to find a season that tops Barry Sanders in 1988 at Oklahoma State.
Barry Sanders would receive 559 first-place votes for the Heisman in 1988, giving him the award with ease.
After looking at his numbers, it's not hard to see why.
-
In 1987, Oklahoma State had an unfair tandem of running backs in Thurman Thomas and Barry Sanders.
Thomas was obviously very good, so Sanders only received 105 touches in his second year with Oklahoma State.
Thomas would leave for the NFL after his 1987 season, opening up the backfield for Barry Sanders.
He would absolutely take advantage.
-
Barry Sanders' 1988 numbers are eye-popping and absolutely ridiculous.
In 11 games, Sanders rushed for
2,628
yards and
37 touchdowns
.
In addition, Sanders would add another 106 receiving yards on 19 catches.
Sanders averaged 7.5 yards per carry over 344 rushes in 1988.
As of that weren't enough, Sanders was also returning some kickoffs and punts as well, and found the endzone twice (once returning a kick, once returning a punt).
Barry Sanders had
4
300+ yard rushing games in 1988, and three games with five rushing touchdowns (including the Holiday Bowl).
-
Including the Holiday Bowl game, Sanders' numbers were even better.
In that game against Wyoming, which Oklahoma City won 62-14, Sanders rushed for 222 yards and 5 touchdowns.
In total, this gave Barry Sanders 2,850 rushing yards for the entire year, as well as 42 rushing touchdowns.
-
Barry Sanders still has the all-time college rushing yards in a single season record, all these years later. Sanders managed to hold off Melvin Gordon in 2014 (2,587 yards) and Kevin Smith in 2007 (2,567 yards).
The fact that Sanders did this while playing in the Big 8 makes it even more incredible, as he had to square off against really good teams such as Nebraska, Oklahoma and Colorado.
Sanders scored a total of 10 touchdowns against these three teams cumulatively, which was remarkable given how good all three teams were.
-
The 1988 season from Barry Sanders may never be topped, and it just sits above the rest 35 years later.
-
Let's conclude with Sanders' rushing yards per game in the 1988 season:
1. Miami, Ohio - 178 yards
2. Texas A&M - 157 yards
3. Tulsa - 304 yards
4. Colorado - 174 yards
5. Nebraska - 189 yards
6. Missouri - 154 yards
7. Kansas State - 320 yards
8. Oklahoma - 215 yards
9. Kansas - 312 yards
10. Iowa State - 293 yards
11. Texas Tech - 332 yards
Bowl Game
1. Wyoming - 222 yards