ATP Week Ahead - Masters Series is Back in Toronto
Published on August 6th, 2018 - 11:34am EST
Written By:
Ned Wilson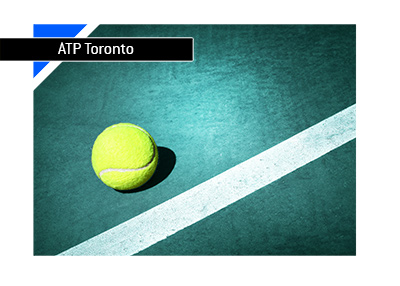 This week the best ATP players on tour are heading to Toronto to square off in the sixth Masters tournament of the year. The only absence among the 16 top ranked players in the world is that of Roger Federer who decided to skip the Canadian tournament before he makes an appearance in subsequent Cincinnati Masters. Another absence is that of Andy Murray who was expected to make an appearance here as well, but after having retired in Houston last week in the quarterfinals, he decided that he is not yet fit to play consecutive tournaments, while some are questioning if he will be able to return in full capacity at all.
Of the favorites that are present in Toronto, which alternates an WTA premier event with the city of Montreal, the bookies have singled out number one seed and the best ranked player in the world, Rafael Nadal, as a clear favorite. His part of the draw should not see him face stiff opposition enough to trouble him until he meets Marin Cilic (ATP 7) in the quarter finals. Nadal holds a 5-2 career record, but Cilic has the game to trouble Nadal who was forced to retire in the fifth set last time the two met in this year's Australian Open.
Juan Martin Del Potro (ATP 4) looms large in that upper part of the draw having just come off playing a final in Los Cabos, losing to a tricky and unpredictable Fabio Fognini (ATP 15) of Italy in straight sets. The two could and should meet here again in the third round. Their path to a likely semifinal match against Nadal will be somewhat challenged by John Isner who has been playing hot and cold on the American courts thus far, having won ATP 250 event in Houston while losing his first match in a second round of Washington D.C. ATP 500 tournament to his compatriot Noah Rubin (ATP 152).
Bottom part of the draw looks to favor Novak Djokovic (ATP 10) this time around with the biggest challenge to come from the young gun Alexander Zverev (ATP 3) of Germany. He has just won a tournament in Washington D.C. and has been in great form this year with two titles to his name, one of them being a Masters 1000 event, earlier this year in Madrid. The two have met only once, oddly enough, with the young German having prevailed on the clay of Rome last year in straight sets. The two are scheduled to meet in the quarters while the race for a second semifinal spot in that part of a draw looks most likely to go to Kevin Anderson (ATP 6) for whom there appears to be no obvious challenger in that part of a draw. Milos Raonic (ATP 29) or David Goffin (ATP 11) sound like the names that could trouble Anderson, but the two will have to square off in the first round and neither have been playing very well of late to truly pose a major threat to break out of this part of the draw. Dimitrov (ATP 6) has an outside chance here to make a run to the semis, but his form this year has been far from spectacular and Dimitrov is a long shot according to the bookies and until he shows some more confidence in his game, you should stay clear of him for.
The play starts on Monday with a draw of 56 players. The first eight seeds are free in the first round, while the total financial commitment of the tournament is $6 million. The winner will take home $1 million along with 1000 ATP points.
Selected Win outright bets for Toronto ATP Masters:
Source: Bet365
Time Stamp: August 5th, 2018 - 6:00 pm EST
Odds Subject to Change
Nadal 5/2
Djokovic 10/3
Del Potro 7/1
Zverev 8/1
Cilic 12/1
Isner 16/1
Raonic 20/1
Anderson 22/1
Goffin 50/1