Ruiz Jr. Was About a 11-1 Underdog To Defeat Anthony Joshua
Published on June 2nd, 2019 8:06 am EST
Written By:
Dave Manuel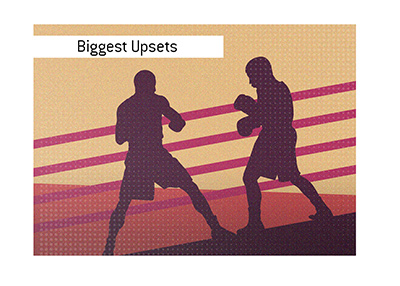 Roughly one round into last night's Heavyweight title fight between Andy Ruiz Jr. and Anthony Joshua, one thing became perfectly clear - Anthony Joshua was not going to be in for an easy night.
Everyone assumed that Joshua would maul Ruiz Jr. early in the fight, though Ruiz Jr. is known for being a tough and durable fighter. Sure, Ruiz Jr. doesn't have the typical body of a boxer, though he is tough as nails and wasn't planning on going down without a fight.
After Joshua knocked down Ruiz Jr. in the third round, practically everyone assumed that it was the beginning of the end, including Anthony Joshua. Joshua, however, made a rookie mistake at that point, as he became sloppy and forgot about his defence. Ruiz Jr. quickly caught Joshua, and the champion was never the same for the rest of the fight. Joshua didn't like getting hit by Ruiz Jr., and he never quite got his legs back under him.
The rest of the fight was Joshua looking tentative and Ruiz Jr. looking more and more confident. In the 7th, the seemingly unthinkable happened, as the fight was stopped and Ruiz Jr. was declared the victor.
-
Heading into the fight, Ruiz Jr. was about a 11-1 underdog to win. While this was certainly a shocking upset, this certainly wasn't the biggest boxing upset of all time.
That title likely belongs to Buster Douglas' victory over Mike Tyson in Tokyo, Japan in 1990.
At the time, Tyson was at his peak, having won the first 37 fights of his career, with 33 of those wins coming via knockout.
Buster Douglas was seen as an exhibition fight for Tyson - a fight that he would easily win before setting up a big money fight against Evander Holyfield a few months later.
According to reports, Tyson was boozing it up in Tokyo days before the fight - in short, he wasn't taking Douglas seriously.
Heading into the fight, Buster Douglas was a 42-1 underdog to win.
In the 10th round, the unthinkable happened - Douglas landed an uppercut that stunned the champion, and he finished the fight a few seconds later.
Though Douglas would go on to lose to Holyfield in his next fight, he will always have the greatest upset in the history of boxing in his back pocket, likely for all of time.
-
Other massive upsets in the history of boxing include Oliver McCall defeating Lennox Lewis, Muhammad Ali knocking out George Foreman and Hasim Rahman defeating Lennox Lewis in 2001.