Travers Allowed 26 Hits, 14 Earned Runs In His First and Only Start
Published on January 10th, 2023 1:46 am EST
Written By:
Dave Manuel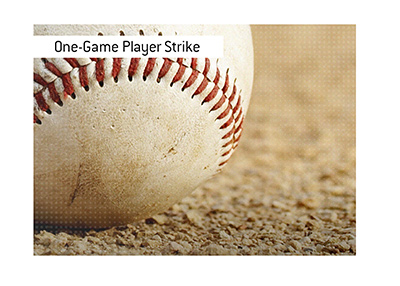 It was May 18th, 1912, and the Detroit Tigers were on strike.
The Tigers had refused to field a team after their teammate, Ty Cobb, was suspended by American League President Ban Johnson "indefinitely".
Cobb had been receiving racist abuse from a fan while playing against the New York Yankees in New York, and Cobb had gone into the stands to deliver a beatdown.
Johnson responded by suspending Cobb indefinitely, and Cobb's teammates declared that they were on strike until Cobb was reinstated.
This left the Detroit Tigers in a predicament, as they had no players to field a team.
-
Ban Johnson threatened the owner of the Tigers with a $5,000/game fine if he didn't field a team.
So the owner of the Tigers, Frank Navin, instructed the manager of the team, Hughie Jennings, to find some replacement players.
The Tigers were playing in Philadelphia, and Jennings reportedly found eight guys standing on a street corner to play in the game.
The men were reportedly offered $25 to play.
Allan Travers was part of that group, and he was offered $50 if he would be the Tigers' starting pitcher.
That was a princely sum back in 1912.
Travers agreed.
-
There was only one problem - Travers couldn't pitch.
In fact, Travers had never pitched in his life, and wasn't even good enough to make his varsity baseball team.
Travers was actually more interested in playing the violin than he was in playing baseball.
-
Travers took the mound in front of 15,000 screaming fans in Philadelphia and delivered one of the worst pitching performances in the history of Major League Baseball.
To make matters worse, there was no back-up for Travers - he would have to pitch the entire game.
The results were about as you would expect.
The Tigers lost 24-2, and Travers put up this stat line:
26 Hits Allowed
24 Runs
14 Earned Runs
7 Walks
1 Strikeout
8 Innings Pitched
The Tigers were an absolute comedy of errors in this game, which is why Travers "only" allowed 14 earned runs.
To his credit, Travers, who spent most of the game throwing "slow curveballs", toughed it out, and actually ended up pitching a complete game.
In fact, Travers even managed to strike somebody out, which was quite a feat for somebody who had never pitched a game in his life.
-
After getting absolutely crushed, the Tigers soon ended their strike and things got back to normal.
Travers would never pitch another game in his life.