Ken McAuley Likely The Worst Goalie of All Time
Published on October 26th, 2021 2:21 pm EST
Written By:
Dave Manuel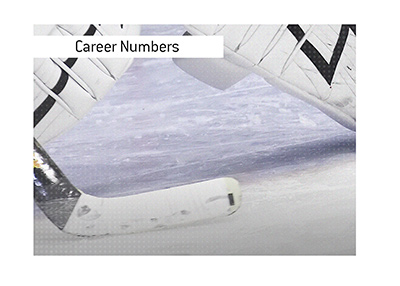 There have been some really bad NHL goaltenders over the years.
Hardy Astrom, who was so bad that Colorado Rockies coach Don Cherry literally got down on his knees in his GM's office, begging for the team to trade for another goalie.
Gary Laskoski, who had a disastrous run with the Los Angeles Kings in the early 1980s.
Steve Passmore, who played 93 NHL games and won just 23 of them.
Andre Racicot, who had the nickname "Red Light Racicot", which should say everything about his performance as a goaltender in the NHL.
-
The absolute worst goalie in NHL history, however, is very likely Ken McAuley.
It's almost not fair to include McAuley on this list, as he was signed by the New York Rangers during World War II, when the league was experiencing a dramatic shortage of players.
After serving a year in the military, McAuley signed a deal with the Rangers and played for two years for the team.
-
McAuley's two years (1943-44 and 1944-45) in the NHL were absolutely disastrous.
In his first year with the club, McAuley started 50 games and allowed 310 goals, which gave him a GAA for the year of 6.24.
This is, by far, the worst GAA in the history of the NHL, and this number will likely never be topped.
McAuley posted a record of 6-39-5 that season.
Things improved slightly in his second and final season in the NHL, as he went 11-25-10 in the 1944-45 season, while posting a GAA of 4.93.
One bright spot? McAuley would post a shutout that season - the only of his career.
McAuley's career numbers:
17-64-15
5.61 GAA
-
Following the 1944-45 season, McAuley was not resigned by the club. He spent a few more seasons in the WCSHL before leaving the game entirely after the 1948-49 season.
-
It is going to be very tough, if not impossible, for anybody to ever top McAuley's numbers in the NHL.