Teams Combined For 30 Yards of Total Offense in Mudfest
Published on August 29th, 2023 4:39 pm EST
Written By:
Dave Manuel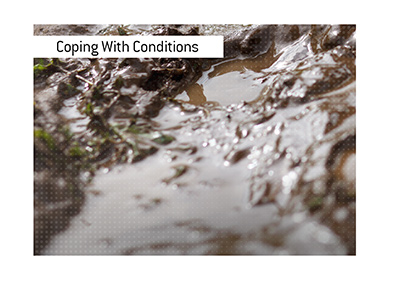 Next time that you think you are watching a dull and boring football game, you can feel better in the fact that you didn't have to watch the 1939 college football game between Texas Tech and Centenary (Louisiana).
This game can easily claim the title of being the worst of all time.
It was November 11th, 1939, and the weather was TERRIBLE in Shreveport, Louisiana.
In reality, the rain was so bad that the game probably shouldn't have been played, but it went ahead anyways.
The fans in attendance were miserable, as were the coaches and players, as the torrential rain wouldn't let up.
This led to some very sloppy football - actually, sloppy might be an understatement.
-
The game finished in a scoreless 0-0 tie and set a number of records for offensive futility.
The two teams combined for just 33 plays over the course of the game. Many times, after getting the ball, the receiving team would simply punt the ball back on first or second down, due to the conditions being so bad.
This resulted in just 30 yards of total offense - in fact, Texas Tech finished the game with minus 1 yards of total offense.
There were just 28 rushes in the game - as probably could have figured, neither team was looking to pass the ball.
The ball was punted 77 times over the course of the game, resulting in a total of 42 punt returns (a number of punts went out of bounds, were downed or were blocked.)
Texas Tech executed just 12 plays over the course of the game.
Texas Tech punted the ball 36 times, resulting in a record 20 punt returns by Milton Hill of Centenary.
-
As the rain really worsened in the second half, Texas Tech and Centenary punted the ball 22 times IN A ROW.
Meaning, the receiving team would simply punt the ball away on first down - this happened 22 times in a row.
-
There is no doubt that Texas Tech vs Centenary was the WORST football game of all time.