2012 USC Trojans Continue To Top The List
Published on July 15th, 2022 2:09 pm EST
Written By:
Dave Manuel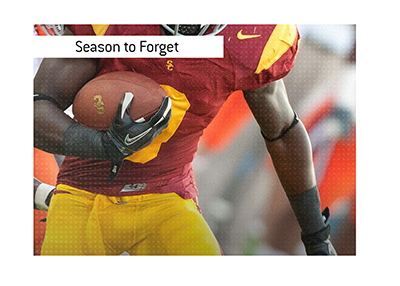 2012 was supposed to be an incredible season for the USC Trojans.
The team was finally out from a two-year post-season ban.
The team had finished the previous year as the #6 ranked team in the nation.
The team was returning 18 starters and 13 All-Conference performers.
-
Prior to the 2012 season getting underway, the USC Trojans were the #1 ranked team in the nation.
When the season came to an end, they would be unranked, become the first team since the 1964 Ole Miss Rebels to "accomplish" this embarrassing feat.
-
Prior to the season getting underway, the USC Trojans seemed loaded with talent.
QB Matt Barkley, Junior Robert Woods and Senior TJ McDonald were just some of the top players that were returning for another season at USC.
Lane Kiffin was coaching USC at the time, and the team had a very strong list of recruits.
Everything seemed to be lining up for a big year.
-
Things got off to a good start for USC, as they easily handled Hawaii 49-10 in their opening game of the season.
The next week, USC beat Syracuse by a score of 42-29 - a bit closer than they had hoped, but still a win.
USC was the #2 team in the nation when they squared off against Stanford in Week 3. The Trojans couldn't get anything going on offense and ended up losing the game by a score of 21-14.
The #13 Trojans would get things back together, as they managed to put together a string of four straight wins against the likes of California, Utah, Washington and Colorado.
Entering the seventh week of the season, the Trojans were 6-1.
-
Unbelievably, the USC Trojans would lose six of their next 7 games and finish the season with a record of 7-6.
The Trojans would lose to the Arizona Wildcats 39-36, and their season would proceed to get flushed down the toilet.
Over the next month and a half, USC would lose to Oregon, UCLA, Notre Dame and Georgia Tech.
The team would turn in an especially uninspired effort against Georgia Tech in their bowl game, losing 21-7.
-
This would be the beginning of the end for Lane Kiffin, as he would be fired just a few games into the 2013 season.