Punch Would Cost Hayes His Career and Forever Tarnish His Reputation
Published on October 29th, 2022 11:18 am EST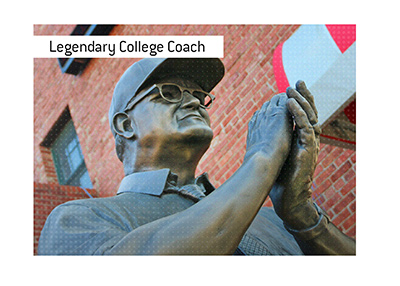 Woody Hayes was a coaching legend.
Over the course of his storied 30+ coaching career, Hayes won five national titles, all with Ohio State.
Hayes won the Eddie Robinson Coach of the Year award three times, and was inducted into the College Football Hall of Fame in 1983.
Hayes, however, would severely tarnish his reputation in the very last game of his coaching career.
-
Hayes, who was known for his fiery temper, would cross the line in the 1978 Gator Bowl.
Ohio State was playing Clemson, and Clemson had a narrow 17-15 lead near the end of the game.
With Ohio State driving down the field, Hayes elected to call a pass on 3rd and 5 at the Clemson 24-yard line - an interesting call, given that Ohio State could have kicked a field goal and let their defense try to handle business.
Freshman quarterback Art Schlichter was intercepted by Charlie Bauman on the next play, which almost certainly gave Clemson the win.
Bauman was knocked out of bounds on the return, and an enraged Woody Hayes walked up and punched Bauman in the throat, triggering a brawl.
Hayes was in an absolute rage, and ended up abusing an official and even had to be restrained after turning his anger towards one of his own players.
Hayes completely lost it.
-
After the game, Ohio State's Athletic Director Hugh Hindman confronted Hayes and implied that the legendary coach needed to resign.
Hayes refused to resign and was fired by Ohio State the next day.
Hayes would never coach another game in his life.
-
Hayes was a legendary college coach, as he ended his career with a record of 238-72-10.
Hayes, despite his unfortunate incident against Clemson, was a beloved figure, as more than 15,000 people attended his memorial service.
The incident didn't stop Hayes from being inducted into the College Football Hall of Fame, and he is still regarded as one of the best college football coaches of all time.