The Story of March 2nd, 1962
Published on July 21st, 2021 3:10 pm EST
Written By:
Dave Manuel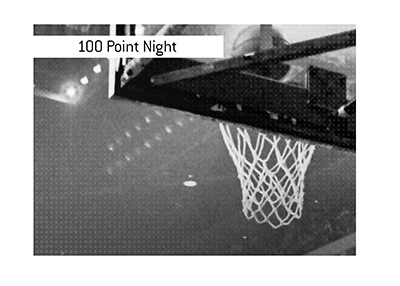 On March 2nd, 1962, Wilt Chamberlain scored 100 points against the New York Knicks.
This is a record that could end up standing for the rest of time, especially given the parity in the NBA due to the league's Collective Bargaining Agreement.
Let's take a closer look at Wilt Chamberlain's 100 point night.
-
Now, there is no denying that Wilt Chamberlain's 100 point night was an incredible, remarkable feat.
There were, however, a number of things that lined up perfectly to help Chamberlain set the record.
In addition, Chamberlain's 100 point performance was a joint effort between himself and his team, with some remarking that the game turned into a "farce".
To start, the New York Knicks were a pretty terrible team in 1962, as they had a record of 27-45.
Next up, the Knicks' starting center, Phil Jordon, missed the game with the "flu".
Jordon's replacement, Darrall Imhoff, got into early foul trouble and would only end up playing 20 minutes of the game.
So, the job of guarding Chamberlain for the majority of the game was left to a rookie (Cleveland Buckner) and a number of other Knicks players.
Next up - Wilt Chamberlain took 63 shots from the field during that game.
Read that again - 63 shots!
On top of that, he was 28-for-32 from the foul line.
-
Despite leading by 19 points heading into the fourth quarter, the Warriors (Chamberlain's team) left Chamberlain in for the entirety of the game.
In fact, Chamberlain would play for a full 48 minutes.
On top of that, the Warriors fed Chamberlain the ball at every opportunity in the fourth quarter to get him to 100 points, which is why some contend that this game was a farce.
In fact, Chamberlain took 21 shots from the field in the fourth quarter of the game, despite the fact that the Warriors were comfortably ahead and in no danger of losing.
In Chamberlain's autobiography, "Wilt", he says that his teammates would feed him the ball in the fourth quarter, even when they were wide open.
The Knicks started running down the clock in order to avoid the embarrassment of Chamberlain getting to 100 points. In order to counter this, the Warriors sent in a bunch of back-ups to play with Chamberlain, with the purpose of immediately fouling the Knicks in order to get the ball back into Wilt's hands.
In the end, the game turned into a joke, but Chamberlain got to 100 points.
-
Some believe that Kobe Bryant's 81 point performance against the Toronto Raptors was actually more impressive than Chamberlain's 100, as Kobe did it in the modern era and took 17 less shots from the field in the process.