Willie Anderson's Record Continues To Stand To This Day
Published on October 24th, 2022 3:42 pm EST
Written By:
Dave Manuel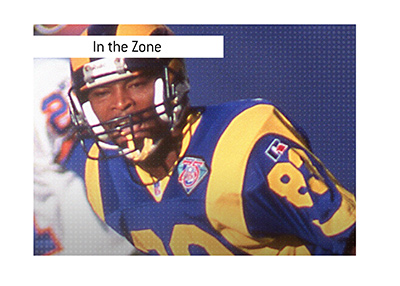 Willie "Flipper" Anderson had a solid 10-year career in the NFL, where he amassed a total of 5,357 receiving yards.
The second-round draft pick accumulated an unbelievable 6.3% of his total CAREER receiving yards in just one game.
During the 1989 season, while playing with the Los Angeles Rams, "Flipper" just had one of those games when everything was going right.
"Flipper" was in the zone, and he was getting open.
This resulted in an incredible
336 receiving yards
in a single game for Anderson, which remains the record to this day.
-
The Los Angeles Rams were a good team in 1989, as they finished with a 11-5 record.
The team was 7-4 when they travelled to New Orleans to take on the Saints on Sunday, November 26th, 1989.
The Rams were enjoying some momentum, as they had won their last two in a row, and wanted to make it three in a row against the Saints.
The Rams were playing from behind for most of the game, as the Saints enjoyed leads of 10-0 and 17-7.
This meant that the Rams were throwing, and "Flipper" Anderson was catching a ton of the passes.
Jim Everett, starting quarterback for the Rams, would throw 51 times over the course of the game, completing a total of 29 of his passes.
"Flipper" Anderson would catch more than half of the completed passes, as he finished with a stat line of 15 catches for 336 yards and 1 touchdown.
Anderson's longest catch of the day was for 50 yards.
Anderson's stats would be helped by the fact that the game went into overtime, where he would add an additional 40 yards to his totals.
-
Calvin Johnson came the closest to breaking Flipper's record in 2013, when "Megatron" put up a total of 329 yards against the Dallas Cowboys.