Pittsburgh Steelers (then Pirates) Made William Shakespeare Their First Ever Draft Pick
Published on June 22nd, 2023 5:06 pm EST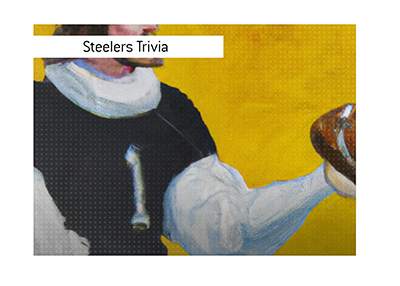 Here's an interesting piece of NFL trivia:
Who was the first-ever draft pick of the Pittsburgh Steelers (or the Pittsburgh Pirates, as they were called in 1936)?
The answer: William Shakespeare.
-
William Shakespeare (not that William Shakespeare, of course) was born in Staten Island, New York, on September 27th, 1912.
Shakespeare, who became known as the "Bard of Staten Island", played halfback and punter for Notre Dame between 1933 and 1935.
In fact, Shakespeare would throw the winning touchdown in a 1935 victory over Ohio State, which would become known as the greatest game in the first 100 years of college football.
-
In 1936, the first-ever NFL Draft was held in Philadelphia, Pennsylvania.
The first two picks of the draft belonged to the Philadelphia Eagles and Boston Redskins, who took Jay Berwanger and Riley Smith, respectively.
The third pick of the NFL Draft belonged to the Pittsburgh Pirates, and they took William Shakespeare from Notre Dame.
-
Did the Pittsburgh Pirates, eventually known as the Pittsburgh Steelers, make a good pick with "Bill" Shakespeare?
The answer - most definitely not.
Back in those days, NFL football wasn't the lucrative proposition that it is today, so many guys would simply go and get "normal" jobs instead.
This included William Shakespeare, who went into the world of business.
Shakespeare would eventually go on to fight in World War II, where he would win a number of medals.
-
This is a piece of NFL trivia that you can use to dazzle your friends - the first ever Pittsburgh Steelers draft pick was William Shakespeare.