The Answer: It Depends
Published on August 22nd, 2020 4:03 pm EST
Written By:
Dave Manuel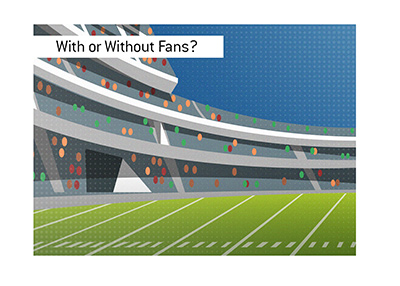 The 2020 NFL season is literally just weeks away.
The league is pushing forward with its season. There was some initial concern about the league not using a "bubble" (which has been used to great success by both the NBA and NHL), though the league has not had any major outbreaks as of yet.
This is good news for fans of the league, who are drafting their fantasy leagues and getting ready for another season of football.
One of the biggest questions: will fans be in attendance when the 2020 NFL regular season gets underway?
The answer: it depends.
Another answer: nobody really knows.
Jerry Jones, the owner of the Dallas Cowboys, has said that fans will be in attendance when the team hosts their first home regular season game.
Other teams, like the Las Vegas Raiders, have already said that fans will NOT be in attendance this season.
Teams like the Kansas City Chiefs have said that fans will be in attendance, though the stadium will only be at 25% capacity.
Teams like the Baltimore Ravens have submitted plans to allow a limited number of fans to attend their games.
A number of teams (including the New England Patriots) have said that there will be no fans in attendance in September, and that the situation will be re-evaluated for October.
A few teams, including the Miami Dolphins, have said that they will be making a decision in the last week or two of August.
Other teams have come out with similar plans to have stadiums at 25% capacity.
The majority of the teams in the league still don't know what they are going to do, despite the fact that the season starts in just a few short weeks. They are likely waiting for guidance from the local, state and federal governments.
With the election around the corner, this situation is obviously turning into a political football, so to speak.
-
In short - teams still don't really know what is going to happen.