Los Angeles Rams, Pittsburgh Steelers Would Have Qualified for the Playoffs
Published on March 31st, 2020 2:49 pm EST
Written By:
Dave Manuel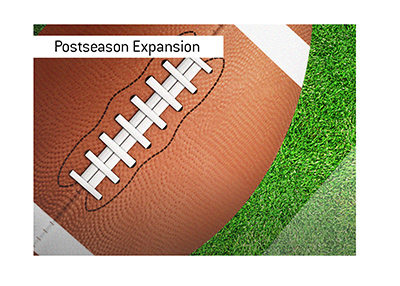 With the new NFL/NFLPA agreement having been signed and agreed to by both sides, NFL teams agreed on the structure for a postseason expansion, which will begin with the 2020 season.
As part of the expansion, 14 teams will now make the playoffs, up from 12 last year.
Instead of two teams getting a bye in each conference during Wild Card Weekend, only one from each conference will get a week off. This will make the earning of the first seed even more important, as the #2 seed in each conference will now need to play a game on Wild Card Weekend.
After the #1 seed, the remaining three divisional champions will be seeded #2, #3, and #4, and they will play the next three highest ranked teams in each conference, with #2 playing #7, and so on.
As part of the expanded playoffs, both CBS and NBC will host an additional Wild Card Weekend game.
Wild Card Weekend will now contain three games on Saturday, January 9th, 2021, and three games on Sunday, January 10th, 2021.
-
If the 2020 rules were in place for 2019, the Los Angeles Rams and Pittsburgh Steelers would have made the playoffs in the NFC and AFC respectively, as they were both the #7 seeds in their conferences.
The San Francisco 49ers and Baltimore Ravens would have received the two byes, with the Packers and Chiefs being forced to play on Wild Card Weekend.
As a result, Wild Card Weekend would have looked like this:
Green Bay Packers vs Los Angeles Rams
New Orleans Saints vs Minnesota Vikings
Philadelphia Eagles vs Seattle Seahawks
Kansas City Chiefs vs Pittsburgh Steelers
New England Patriots vs Tennessee Titans
Houston Texans vs Buffalo Bills
-
How would the 2019 playoffs have played out under these new rules?