Redskins, Dolphins, Jaguars Top Possible Destinations
Published on March 24th, 2020 5:16 pm EST
Written By:
Dave Manuel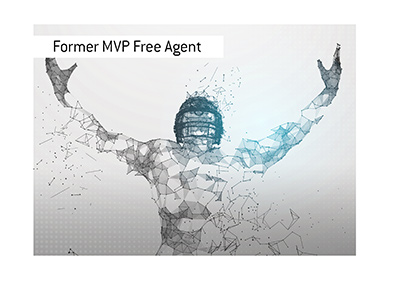 The Cam Newton era in Carolina has come to a screeching halt, as the Panthers' elected to release the former MVP earlier today.
According to reports, the Panthers tried their best to trade their former star QB, though they couldn't find any takers. Newton has had a number of injury issues over the past few years, and teams were hesitant to give up any assets for Newton.
Newton, who finished his time in Carolina with almost 30,000 passing yards, 182 passing TDs, 4,806 rushing yards and 58 rushing TDs, is now a free agent and can sign with whatever team that he wants.
It almost seems surreal, as Cam is just 5 years removed from winning the MVP award and leading the Panthers to the Super Bowl, though this is the way that the NFL operates. The Panthers weren't willing to give Newton a long-term deal, and the two sides have now gone their separate ways.
-
The problem that Cam and other free agent Quarterbacks like Winston have is that there is not much of a market for QBs this offseason.
There are certainly teams that need to fill QB holes (Bengals, Dolphins, Patriots, etc), though a number of teams are planning on addressing this issue at the draft, as there are 4-5 QBs in the 2020 draft that will likely become immediate starters.
A player like Newton could potentially sign with one of those teams, though he would have to take a much smaller contract and potentially watch from the bench.
The Redskins and Jaguars both have tenuous QB situations, which is why they are two of the leading teams to sign Newton to a deal.
-
Here are the current betting odds as to which team will sign Newton to a deal, courtesy of a major offshore sports book:
Washington Redskins, +200
Miami Dolphins, +300
Jacksonville Jaguars, +300
Denver Broncos, +750
New England Patriots, +800
Los Angeles Chargers, +900
Las Vegas Raiders, +1200
Pittsburgh Steelers, +2200
Cincinnati Bengals, +2400
The Denver Broncos have said that Drew Lock is their QB for the future, so they don't seem like a likely landing spot for Newton.
The Cincinnati Bengals are almost certainly going to draft Joe Burrow, though Cam could potentially provide some experience from the bench.
The Pittsburgh Steelers have "Big Ben" returning to the fold, while the New England Patriots seem to be going in a different direction.
Will the Redskins throw in the towel on Haskins already and sign Newton? Will the Dolphins sign Newton, when they already have Fitzpatrick and likely plan on taking a QB next month?
And where do QBs like Winston fit in?