Diaz Trilogy Fight Likeliest Scenario for McGregor
Published on August 30th, 2017 12:52 am EST
Written By:
Dave Manuel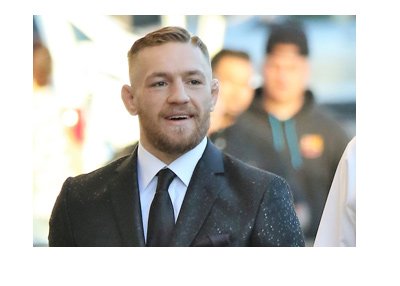 Earlier this week, Conor McGregor lasted 10 rounds with Floyd Mayweather before eventually succumbing to a TKO.
Despite losing to Mayweather, the fight actually helped to raise McGregor's profile. Even when Mystic Mac loses, he ends up winning. Many people complimented McGregor on his toughness and the general consensus is that he did much better than expected.
This leads to the obvious question - what is next for McGregor? After all, he is still the 155 pound champion in the UFC, plus he claims that he is still the rightful holder of the 145 pound title as well, though it seems next to impossible that he would ever defend that belt again, especially given the massive cut in weight that he would need to undergo.
At this point, the tea leaves say that a trilogy fight against Nate Diaz is the likeliest possibility. The fight would almost certainly take place at 155 pounds. McGregor's manager has said that a Diaz fight is at the top of Conor's list, though tilts against Nurmagomedov, Ferguson and even Max Holloway reportedly remain possibilities.
Though a fight against Diaz doesn't make sense from a rankings standpoint, there is too much money to be made from a trilogy fight taking place sooner rather than later.
The fight is an easy sell, as McGregor and Diaz remain two of the biggest stars in the UFC.
The fight is compelling, as McGregor vs Diaz II was one of the top fights of the past couple of years.
Given McGregor's extremely high profile right now, I wouldn't be surprised if the trilogy fight ended up selling close to 2 million PPV buys. Any McGregor fight is going to do over 1 million PPV buys right now, though Diaz is the perfect foil and would elevate the event to new heights.
WME-IMG is in the business of making money from the UFC, which makes Diaz/McGregor III a near lock to take place.
-
McGregor continues to improve in leaps and bounds, and I think that Nate Diaz would be in for a very long night if this fight gets signed. The biggest question mark, however, remains McGregor's gas tank. If Nate can drag the fight into the later rounds, things could get interesting.
Don't be surprised if Diaz/McGregor III ends up taking place on the UFC's December 30th card, as Conor has said that he wants to fight again before the end of 2017.
-
Here are the current odds for a trilogy fight between McGregor and Diaz:
Conor McGregor, -270
Nate Diaz, +210