A Look at the Popular Teaser Bet
Published on September 25th, 2020 8:54 am EST
Written By:
Dave Manuel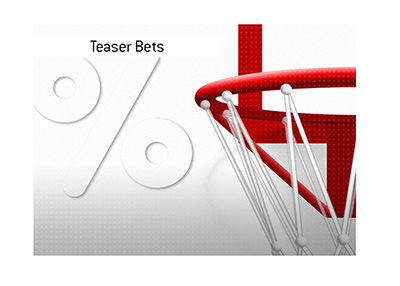 "Teaser bets" have become incredibly popular over the past couple of years.
A "teaser bet" is a type of parlay wager. The difference between a teaser and a standard parlay? You are adjusting the lines in a teaser bet to give yourself a better chance of winning, in exchange for a lower potential payout.
Teaser bets are especially popular with NBA and NFL betting.
-
Let's take a couple of looks at examples of "teaser bets".
Let's say that the Los Angeles Lakers are playing the Denver Nuggets in the playoffs. Here are what the lines look like:
Los Angeles Lakers, -7.5, 1.90
Denver Nuggets, +7.5, 1.90
Over/Under 203.5
Now, let's say that you wanted to bet on the Lakers to cover the spread and the total to go under 203.5 points.
If you wanted to make this a standard parlay, you'd get a return of $361 if the parlay hit (1.90 * 1.90 * $100 wager).
Ok - now let's look at a teaser.
With a teaser, the sportsbook might give you the option to take the Los Angeles Lakers -2.5 at 1.30, and the over/under total at 211.5 for 1.25.
In both cases, the lines are significantly more in your favour, though the odds are significantly worse.
So, if you wanted to bet $100 on the Lakers -2.5 and Under 211.5, your potential payout would look like this:
(1.30 * 1.25 * 100) = $162.5
This is an example of a teaser.
As you can see, your odds of winning the ticket are significantly better, though your odds are significantly worse.
-
Here is another example of a "teaser bet".
It's Sunday during the NFL season. You think that the Baltimore Ravens (-10.5) and Denver Broncos (+3.5) are both going to win.
You want to give yourself a bit more room to win your ticket, so you decide to construct a teaser that looks like this:
Baltimore Ravens, -3.5
Denver Broncos, +10.5
In a traditional parlay with the regular spreads, you'd be looking at a profit of around $260 for a $100 bet.
With this teaser, you are looking at a profit of roughly $70 from a $100 wager, though you stand a really good chance of winning your ticket.