Atlanta Falcons vs Philadelphia Eagles Kicks Off Season on September 6th
Published on July 25th, 2018 4:19 pm EST
Written By:
Dave Manuel
Click Here To Bet on the NFL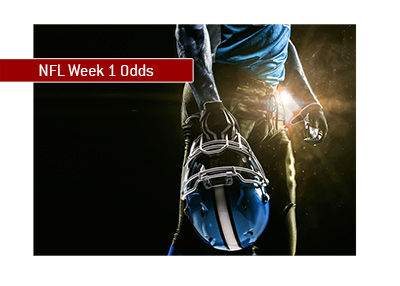 Later this week, veterans will report to training camps, officially kicking off the 2018-19 season.
There are many questions heading into this season, including:
1) Will the New England Patriots finally start to crack?
2) Will the Philadelphia Eagles be able to successfully defend their title?
3) How good will teams like the Los Angeles Rams be?
Training camp will start to answer some of those questions, as teams will quickly see what kind of an impact their new signings will have. Up until this point, fans weren't too interested. Now that veterans are getting ready to report to training camp, things will officially kick off and fans will become interested. Over the next month and a half, tens of millions of fantasy football drafts will take place, and fans across the world will get ready for the start of the season.
-
The regular season officially kicks off on Thursday, September 6th, with the Philadelphia Eagles hosting the Atlanta Falcons. Carson Wentz will look to successfully return from injury, while the Falcons will look to build on a surprisingly strong playoff run.
There will be a number of interesting match-ups on Sunday, including the Texans travelling to New England to take on the Patriots, the Steelers battling the new-look Browns and the 49ers travelling to Minnesota to take on Kirk Cousins and the Minnesota Vikings. There are many intriguing Week 1 match-ups, and fans are in for a true treat.
As in previous years, there will be two Week 1 Monday Night Football games, as the New York Jets will take on the Detroit Lions and the Los Angeles Rams will take on Jon Gruden and the Oakland Raiders.
-
Let's take a look at all of the Week 1 betting odds, courtesy of Bet365:
Source: Bet365
Time Stamp:
July 25th, 2018 4:09 pm EST
Odds Subject to Change
Atlanta Falcons, +4, -110
Philadelphia Eagles, -4, -110
Buffalo Bills, +5.5, -110
Baltimore Ravens, -5.5, -110
Cincinnati Bengals, +2.5, -110
Indianapolis Colts, -2.5, -110
Houston Texans, +6.5, -110
New England Patriots, -6.5, -110
Jacksonville Jaguars, -3.5, -110
New York Giants, +3.5, -110
Pittsburgh Steelers, -6, -110
Cleveland Browns, +6, -110
San Francisco 49ers, +5.5, -110
Minnesota Vikings, -5.5, -110
Tampa Bay Buccaneers, +9.5, -110
New Orleans Saints, -9.5, -110
Tennessee Titans, -2, -110
Miami Dolphins, +2, -110
Kansas City Chiefs, +3, +105
Los Angeles Chargers, -3, -125
Dallas Cowboys, +2.5, -110
Carolina Panters, -2.5, -110
Seattle Seahawks, +1, +105
Denver Broncos, -1, -125
Washington Redskins, +1, -120
Arizona Cardinals, -1, +100
Chicago Bears, +8, -110
Green Bay Packers, -8, -110
New York Jets, +7, -110
Detroit Lions, -7, -110
Los Angeles Rams, -3, -115
Oakland Raiders, +3, -105