If Gretzky Had Entered 1979 NHL Draft, Colorado Rockies Would Have Drafted Him
Published on January 30th, 2023 8:33 pm EST
Written By:
Dave Manuel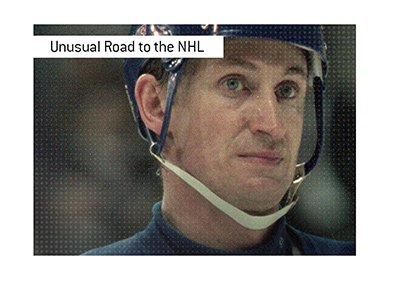 Did you know that the greatest hockey player of all time, Wayne Gretzky, was never drafted?
Did you know that if the NHL had gotten their way, Gretzky would have been drafted by the Colorado Rockies?
Here is the story of how the "Great One" was never drafted.
-
Wayne Gretzky had a very unusual road to the NHL - a road that went through Sault Ste. Marie, Indianapolis and eventually Edmonton.
After racking up 182 points in 63 games with the Soo Greyhounds as a 16 year-old, Gretzky decided that he wanted out.
The future superstar was too far away from home, he wasn't doing well with his school work and he reportedly wasn't getting along with some of his teammates.
At the time, Gretzky's options were limited, as he wouldn't be eligible for the NHL Draft until he was 20 years of age (the minimum age was subsequently lowered).
Gretzky and his family reportedly inquired about playing for another major junior team closer to home, though the league wouldn't allow it.
Gretzky also entertained the idea of playing professionally in Sweden
Instead, Gretzky decided to sign a multi-year "personal services" contract with the Indianapolis Racers of the WHA, which was a new hockey league that was seeking to compete with the NHL.
Gretzky, still just 17 years of age, had signed a multi-million dollar contract with team owner, Nelson Skalbania.
-
The Indianapolis Racers would trade Gretzky to the Edmonton Oilers of the WHA a short time later, as the Racers would go out of business after just a few games.
The NHL and WHA would soon agree to a merger agreement, with one of the terms of the agreement being that underaged players that had played professionally in the WHA would be eligible for the 1979 NHL Draft.
This included Wayne Gretzky.
The NHL expected that the Oilers and Gretzky would void their deal, and Gretzky would be entered into the 1979 NHL Draft.
This would have meant that the Colorado Rockies, who held the #1 pick in the 1979 Draft, would have almost surely taken Gretzky with their first overall pick.
Gretzky, however, had other ideas, and he refused to void his contract with the Oilers.
-
The NHL and the Oilers had to work out a compromise, as Gretzky wasn't budging.
The compromise was that the Oilers would be able to keep Gretzky, but they would move to the bottom of the 1979 NHL Draft.
This worked out wonderfully for the Oilers, as they not only going to keep Wayne Gretzky, but they also drafted Hall of Famer Kevin Lowe with their first round pick.
The Oilers would follow this up by drafting Mark Messier in the third round, and their future dynasty was set.
-
This is the story of how the greatest player of all time wasn't drafted.