Wayne Gretzky's Greatest Game Came in 1981
Published on June 16th, 2023 1:06 pm EST
Written By:
Dave Manuel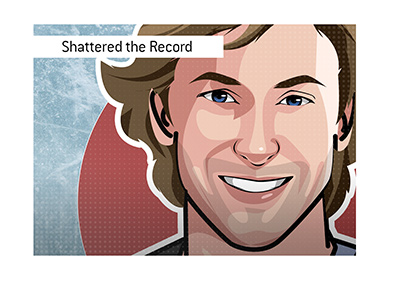 What was Wayne Gretzky's greatest game ever?
There are a number of games that could certainly qualify.
After all, Gretzky scored eight points in a game TWICE.
On January 4th, 1984, Gretzky notched eight points (4 goals, 4 assists), and finished the game with an unbelievable plus/minus of +8.
On November 19th, 1983, Gretzky also scored eight points in a game against the New Jersey Devils.
-
There are a number of games that could qualify as Gretzky's greatest, and you wouldn't be wrong picking any of them.
In our opinion, however, Gretzky's greatest game came on December 30th, 1981, in a 7-5 win over the Philadelphia Flyers.
-
Heading into the game against the Flyers at the end of 1981, Gretzky had 45 goals in 38 games, putting him on the track to beat the mark of 50 goals in 50 games that was held by Maurice Richard and Mike Bossy.
Gretzky, who was a full-on superstar by this point, decided that he didn't just want to break the record - he wanted to annihilate it.
-
Midway through the first period, Gretzky had two goals, putting him at 47 for the season. With 2 1/2 periods of hockey left, the crowd was buzzing - was tonight the night?
Gretzky notched his hat-trick early in the second period, giving him 48 on the year.
The game was still close heading into the third period, which allowed the Oilers to put Gretzky out there as much as possible.
At 5:13 of the third period, Gretzky scored his fourth goal of the night, and was now just 1 goal shy of 50 for the season.
At this point, the Flyers did their part, scoring two quick goals to make it 6-5 for the Oilers.
With the final seconds of the game ticking down and the Flyers playing with an extra attacker, Gretzky notched his fifth goal of the night, giving him 50 for the year and shattering the record held by Mike Bossy and Maurice Richard.
This made it official - the "Great One" had arrived.
Gretzky would finish with 92 goals that season.
-
Wayne Gretzky had many fine nights over the course of his illustrious career, but December 30th, 1981 was arguably his best.