Panel of 50 Journalists Will Pick Top 5 MVP Candidates
Published on December 31st, 2022 4:26 pm EST
Written By:
Dave Manuel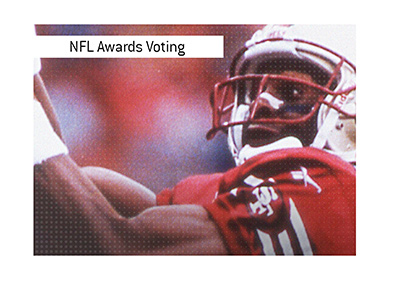 Earlier this year, the Associated Press announced major changes to how votes are cast for the NFL's major awards.
In the past, the Associated Press' panel of 50 voters would simply select one person for awards such as Most Valuable Player, Offensive Rookie of the Year, etc.
This created situations like in 1987, when Jerry Rice and Joe Montana split votes, handing the Most Valuable Player award to John Elway (Jerry Rice certainly deserved the award that year).
-
Starting in 2022, the Associated Press voters will pick their TOP FIVE selections for MVP, and their TOP THREE selections for the rest of the awards.
In the past, there would simply be 50 selections made for MVP, Offensive Rookie of the Year, etc.
Now, these reporters will need to make five selections for MVP, starting with their top choice and finishing with their fifth-highest choice.
For the rest of the awards, they'll need to pick their top three.
-
So - what impact will this have?
The biggest impact is that it will make the favorites to win the award MUCH more likely to win.
Let's take Patrick Mahomes, who is currently the top choice to win his second MVP award.
Now, let's say that a voter thinks that Justin Jefferson deserves the MVP award.
Well, this reporter will almost certainly pick Mahomes as his #2 choice.
So, while a player like Mahomes might not get EVERY #1 vote, he will almost certainly be in the top 2 of every reporter's ballot.
This significantly increases the chances of Mahomes winning the award.
A player like Justin Jefferson, on the other hand, may get a 1st place vote or two, though there is no guarantee that he is second on all of the ballots where he is not the top choice.
-
This will also increase the odds of player's unanimously winning awards.
In the past, some voters wanted to recognize certain players by casting a ballot in their favor, even though there was a CLEAR top choice for an award.
Now, a voter can cast a vote for their top choice while also acknowledging another player with a second place vote.
There have only been two unanimous choices for MVP in the past - Lamar Jackson and Tom Brady.
Now, thanks to the change in voting, there will be a much greater chance of a player winning unanimously.
-
The biggest impact of these voting changes is that favorites for awards will now have a much greater chance of winning, due to the inclusion of second place votes.