2021 Numbers Have Already Surpassed All of 2020
Published on August 10th, 2021 4:33 pm EST
Written By:
Dave Manuel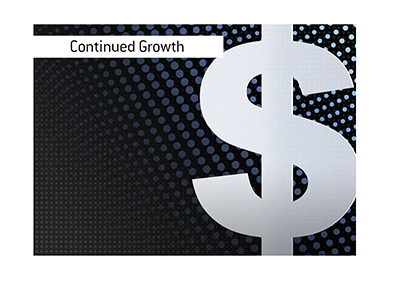 It's no surprise that Americans love betting on sports.
The numbers released from the American Gaming Association earlier today, however, really illustrate just how much Americans love to bet on sports.
According to the organization, US sports betting revenues through the first half of 2021 were $1.8 billion.
Compare this to the $1.5 billion that was generated throughout ALL of 2020.
-
There are a few reasons for this eye-popping number - a number, it should be said, that will almost certainly continue to grow in leaps and bounds.
First off, sports betting continues to be legalized by more and more states.
As more states come online, sports betting revenues will only continue to increase.
A day is coming when there will only be a handful of US states (Utah, etc) that don't offer sports betting within their state's borders.
Other states have jumped onboard and are currently enjoying the influx of new revenues and jobs.
Another reason for the big jump over last year? COVID-19. COVID-19 forced the delay and/or cancellation of many sports events in 2020, and things have more or less returned to normal this year.
-
The YoY numbers are obviously impressive, though the numbers as compared to just a few years ago are particularly eye-popping.
Back before the wave of legal sports betting in the United States, the betting industry would be lucky to have a quarter where over $150 million in revenues were generated, and this was usually during the football season.
Now, just a few years later, and the industry is generating almost a billion of dollars per quarter, and this number will likely only skyrocket in the years ahead.
Source: Twitter.com -
American Gaming Association