King's Bets for the U.S. Open
Published on September 3rd, 2011
Click Here to Qualify for a £200 Bonus at Bet365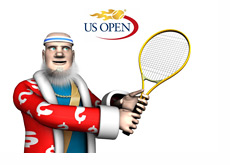 As we approach the second week of US Open there are some pretty enticing odds being offered by BWin. The outsiders are already behind us and the few that are left will have a hard time maintaining their form as they come up against the big guns, both in men's and women's draw. Let's look at some match-ups taking place today.
Tomas Berdych vs. Janko Tipsarevic:
Janko likes playing against Berdych and that is evident just by looking at their head to head record which Tipsarevic leads by 3 wins to none. All of the Janko's three wins came on hard court, last one just a few weeks ago in Montreal. Tennis is the mind game as much as it is the game of skills, so look for for Janko to make his best result at the US Open by making it to the fourth round tonight with a pretty nice odd of 2,75 given to him to beat the Czech player. Both players have been convincing in their previous two matches, but we still give an edge to Tipsarevic today.
King picks: Tipsarevic to win – 2,75 odd
Marcelo Granollers vs. Juan Carlos Ferrero:
The former number one Ferrero is coming out of the huge win against Monfils in the second round of the US Open and is full of confidence which should help him ease through his encounter against the world number 32. Both players know each other well so there should be no surprises in this one as Ferrero has only lost one set in the previous three encounters against Granollers. Look for much of the same tonight and with BWin giving 1,87 odd on Ferrero, this one is not to be missed!
King picks: Ferrero to win – 1,87 odd
Ivo Karlovic vs. Alexandr Dolgopolov:
Can anyone stop Karlovic's serve? It doesn't seem likely that anyone will before he meets Djokovic in the next round. That being said we feel that just like Gasquet couldn't match Croatian's pace on serve, but surprisingly on baseline play, that Dolgopolov will struggle with much of the same issues. Croat has a neck for playing big on big stage and there is none bigger than the US Open for the big serving Croat. The two have never played before and that should favor the Croat again as it will take some time for the Ukrainian to adjust to the giant's serve. Although Dolgopolov is the better ranked player bookies are favoring Karlovic in this one offering a 1,57 odd for the Croatian. Perhaps a bit too low considering that the Croatian is ranked number 94 versus the number 23 of Dolgopolov, but the Croat is playing in the form of his life and would love to get an opportunity to meet Djokovic in the next round to play for glory right at the end of his career.
King picks: Karlovic to win – 1,57 odd
Andrea Petkovic vs. Roberta Vinci:
Here is a nice matchup of the two women in the third round of the US Open. Andrea Petkovic is favorite to win with 1,46 odd given by BWin for her victory. Although Roberta is playing well and perhaps some of the best tennis of her career she should not be much of a challenge for in form German who is truly playing the best tennis of her career and should she win this round her way to the best eight at the US Open should be rather easy as the next round will be certainly contested against an unseeded player. Roberta has already matched her best performance at the US Open by reaching the third round and will be happy after this match either way. Still, playing against a stronger opponent which certainly is Andrea, there are little chances of her improving her career best result at the Open.
King picks: Petkovic wins – 1,46 odd
Jelena Jankovic vs. Anastasia Pavlyuchenkova:
One more nice matchup of today's third round comes in a Serb vs. Russian encounter of the worlds number 12 Jelena Jankovic and world's number 16 Anastasia Pavlyuchenkova. Jelena has been looking better in this US Open so far, while Pavlyuchenkova has already dropped a set in a second round against the Croatian Martic. The odd on Jankovic to win is 1,54 and this is the way to go, but for you out there a bit more inclined towards catching some higher odds look into playing Jelena Jankovic to win in three sets. This will be an entertaining match, there is no doubt about that.
King picks: Jankovic to win (to win in three sets) – 1,54 odd (3,70 for 2-1 set win)